Our work on the River Thames Scheme (Datchet to Teddington) is progressing well. We're keeping up the pressure to build this important scheme. Our customers living and working in the 15,000 homes and businesses in the flood risk areas between Datchet and Teddington face the worrying prospect of further flooding for every winter that goes by. Some residents have only just moved back into their homes after they were flooded last year.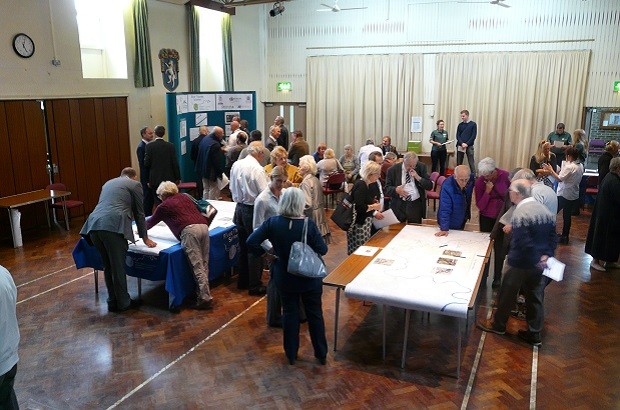 Over the last few weeks, my team has been pulling together to plan and prepare for a series of 9 public drop-in events. These are being run by the Environment Agency and our local council partners. The first event was on 25 August in Wraysbury Village Hall and about 120 local people came along to find out more about the scheme and share their views. We are keen to hear what everyone thinks about the River Thames Scheme, as well as gaining their local knowledge and input.
The dates and venues for these events are:
| | |
| --- | --- |
|  Date4:00pm – 8:00pm |  Venue  |
| Tuesday, August 25  | Wraysbury Village Hall, TW19 5NA |
| Thursday, August 27  | St. Nicholas Parish Hall Shepperton, TW17 9JY |
| Tuesday, September 1  | Chertsey Hall, KT16 9DR |
| Thursday, September 3  | Landmark Arts Centre, Teddington, TW11 9NN |
| Friday, September 4 | The Hythe CentreStaines, TW18 3HD |
| Tuesday, September 8 | YMCA, Hawker Centre     Richmond Rd, Kingston, KT2 5BH |
| Wednesday, September 9  | Molesey Boat ClubKT8 9AJ |
| Friday, September 11 | Riverside Arts CentreSunbury, TW16 5QF |
| Tuesday, September 15 | Datchet Village HallSL3 9HR |
These public events will be followed by two workshops at the end of September / early October. These will consist of 2 discussions groups of local organisations and community representatives, who will work with us over the next year on the design for the proposed flood channel.
In my last blog I talked about the river modelling. The first stage of the model has been given to our design consultants. They are using this to model the River Thames for the modifications to the three existing weirs at Sunbury, Molesey and Teddington. The full model is having its final checks and peer review before it's approved for use.
One of the projects within the River Thames Scheme is called Property Level Products, which is supplying and fitting flood products to homes that are at greatest risk. A few of the products being offered include flood doors and air brick covers, which help make buildings more resistant to flooding. 
We saw many people desperate to get sandbags during the flooding last year in order to protect their homes. The reality is that sandbags are not the most effective way of doing this. Mary Dhonau, Chair of the Flood Protection Group Property Care Association, says "Property Level Products should not be seen as a method to totally stop flood water from coming in to your home (in some cases, it has) but as a measure that will vastly reduce the amount of water that gets in and so prevent some of the awful impact of a flood. At the very least Property Level Products will give you time to move yourselves and your belongings to a safe place. It will help if a future flood does occur and is an awful lot better than any sandbag." 
Since 2011 we have installed these products to more than 200 homes as part of the River Thames Scheme. Some homes are unsuitable for them, where the type of construction means that water will find its way into the building. However, when Property Level Products are fitted, homeowners can take more effective action to protect their homes and possessions during a flood. We encourage residents to work together as community groups to plan and prepare for flooding, and support each other with Property Level Products. Everyone should make their own personal flood plan to and include when and how they will fit or check their Property Level Products. Please contact us at rts@environment-agency.gov.uk for advice on planning and preparing for floods.
I will be posting regular blogs to keep you updated about progress with the River Thames Scheme. Please also visit our GOV.UK website to find out more about our work and follow us on Twitter @ThamesScheme and Facebook. If you would like to get in touch, please email us at: rts@environment-agency.gov.uk
David Murphy is Programme Executive for the River Thames Scheme