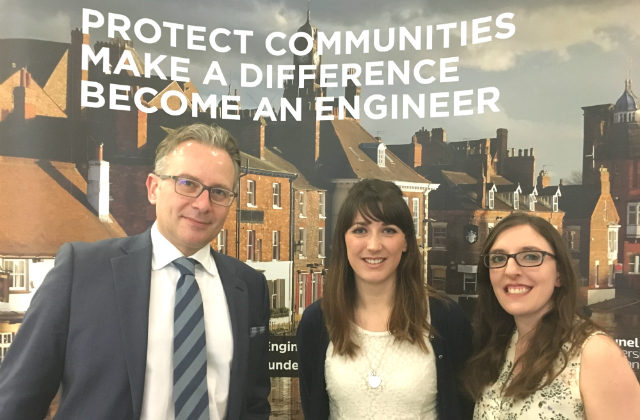 14 years ago I led the creation of our first flood risk engineering degree programme. Today sees another step forward in our plans to develop the next generation of flood risk engineers with the launch of three different degree programmes delivered in partnership with Brunel University London and HR Wallingford.
Whether you are interested in a Foundation degree or studying at BSc or MSc level there's a course that's relevant to you. You can find out more here.
The Royal Academy of Engineering estimate that the UK will need around 830,000 new engineers by 2020. And with our plans to deliver 1,500 projects to better protect 300,000 homes from flooding by 2021 the need for talented engineers to work with us to support communities at risk of flooding has never been greater.
We are keen to attract the brightest talent: reaching out to those who may not have considered studying an engineering course before. We also need flood engineers who can embrace new technology alongside traditional civil engineering and have the ability to work with communities and partners. We believe these new courses will deliver on both counts. Today I met Penny and Aoife (pictured) two of our recent foundation degree graduates who are already working in our front line on plans to reduce flood risk in communities – both of who had studied other subjects first before being drawn to our flood work.
We've come a long way already: developing 376 graduates in flood and coastal engineering through our previous partnerships. But this new programme will build on this legacy and see us develop over 250 professionally recognised engineers in the years ahead. We also want to increase the number of female and BAME engineers we employ to ensure we are drawing on the widest available talent.
The work we do really matters to the thousands that have been affected by flooding – and the many millions more at risk. It's crucial our ideas and approaches change faster than the climate around us – the next generation of engineers will be crucial to that challenge.