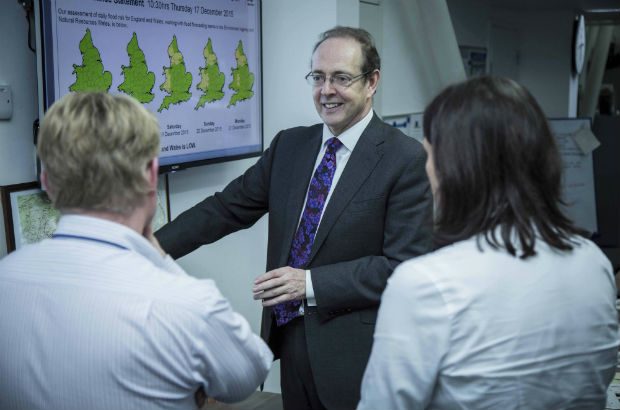 Sir James Bevan, Chief Executive of the Environment Agency, welcomes in a new year for England's environmental regulator
We begin 2021 amid many challenges, most of all that of Coronavirus. But we have reason to hope that the year ahead will be brighter, healthier, and happier than 2020.
Within the Environment Agency, we will continue to make the most of the opportunities we have to enhance our environment, protect communities against flooding and drought, and help the country adapt to the worsening effects of climate change.
And this year does bring us significant opportunities to do this. We look forward to playing our part in the run up to the 26th United Nations Climate Change conference. And we continue to work to reduce our own carbon footprint and achieve our ambition to become a Net Zero organisation by 2030.
There will, of course, also be countless opportunities in local communities where our work makes a real impact on those at risk from environmental harm. All of this work is driven by our 5-year action plan, EA2025, which sets out how we aim to create better places for people, wildlife and the environment.
We are confident that we can overcome the operational challenges posed by Coronavirus. Over Christmas, our teams responded quickly to protect communities against flooding and help those who were sadly hit by it. We remain ready to do the same should the winter weather present further issues.
In this third national lockdown our priority remains to sustain the critical services we provide; and to protect the health, safety, and wellbeing of the public and our own staff. In all our operations we are following strict health and safety guidelines, working closely with our partners and communities.
We are following the latest Government guidelines to mitigate against virus transmission. We will continue to:
Respond quickly and effectively in the event of a major flood, pollution or other incident;
Carry out our regulatory activities in a safe, secure and effective way;
Keep our operational sites, such as flood barriers, up and running;
Support businesses who face their own operational difficulties;
Sustain our cooperation with the emergency services, local authorities and other partners, including in the Local Resilience Forums which are helping manage the current health crisis.
We will continue to respond flexibly to events and the needs of the country, which may mean we need to stop or slow some of our activities temporarily. Where this is the case we will prioritise our most important activities to ensure that the environment remains protected and that communities remain safe.