The dredging of the Rivers Parrett and Tone started this week, part of a 20 year plan containing various actions to improve flood resilience on the Somerset Levels and Moors. In the first of our monthly blogs from the Somerset Levels and Moors we hear from the man managing our 8km dredge project, our guest blogger Steve Hamer.
After weeks of seeing images of flooding on our TV screens and reading the stories of the families affected, the desire to get on with the dredge is one shared by everyone. I can honestly say that the effort, goodwill and commitment from all parties involved to help move this project forward has been nothing short of amazing to be part of.
It hasn't just been a very difficult design to produce, there has also been lots of work for the Environment Agency and local partners to do, such as agreeing areas to spread the dredged material.  GBV and Land & Water have also been busy fulfilling the necessary health and safety requirements before beginning work, like testing the river banks are strong enough to take a 22 tonne excavator. And of course arranging to have that type of specialist machinery available for the project.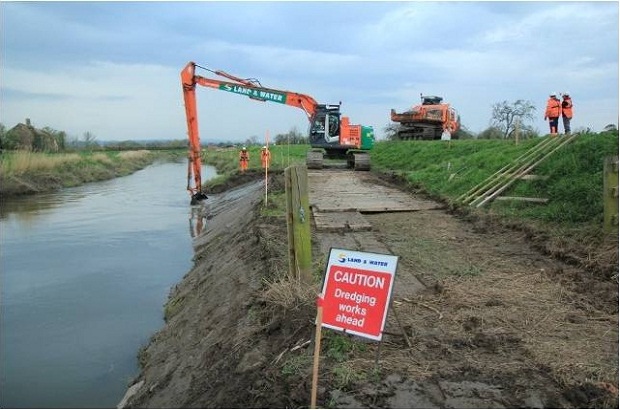 The Environment Agency's advice and assistance in getting the procedural paperwork sorted quickly has kept the whole project moving along smoothly. They've also encouraged a 'team' ethos throughout.  It's hard to comprehend that it's only 8 weeks since the project team was formed. The volume and complexity of detail required would usually take in the region of 18 months to complete. To me, this proves the best way to deliver ANY scheme is to get the correct individuals involved, and support those people to become a productive team. This will almost guarantee the successful delivery of any project - never mind one of this magnitude.
On Monday I had the first gang out on site dredging but by June we should have 8 working at different locations along the Parrett and Tone. Together we'll be working to remove around 235,000 cubic metres of silt, whilst minimising disturbance and the impact on the local community.
Steve Hamer is senior project manager at Galliford Try/Black & Veatch Joint Venture Ltd (GBV) and the Environment Agency's site supervisor for the Rivers Parrett and Tone dredging project.
Visit GOV.UK for the latest updates on our work on the Somerset Levels and Moors.