Every year we breed thousands of fish to stock into rivers and still waters around the country.  Up to half a million are used to replace fish killed in incidents, to improve fish stocks, and to develop new fisheries.
Spring is a really busy time of year for me and my team based at our fish farm in Calverton, Nottinghamshire. Family life has to take a bit of a back seat as we're on the road as early as 5.30am travelling around the country to collect fish to breed from.  We always use wild fish as the quality of their eggs is better. In the last couple of weeks we've been catching dace from the River Snail in Cambridgeshire and grayling from the Derbyshire Derwent and Yorkshire's Wharfe, Ure, and Nidd rivers.
When we arrive back at Calverton with the fish they are placed in tanks and injected with hormones.  This mimics the hormone surge which happens naturally in fish at spawning time.  Males and females are kept separately in warm water until ovulation takes place.
The males and females are then dry stripped and the eggs are treated with a solution to improve the rate of fertilisation.  After 10-30 minutes the eggs are gently poured into mesh trays and placed inside troughs, where they receive a regularly changing water supply. The eggs are  incubated for between seven and 30 days depending on species and temperature.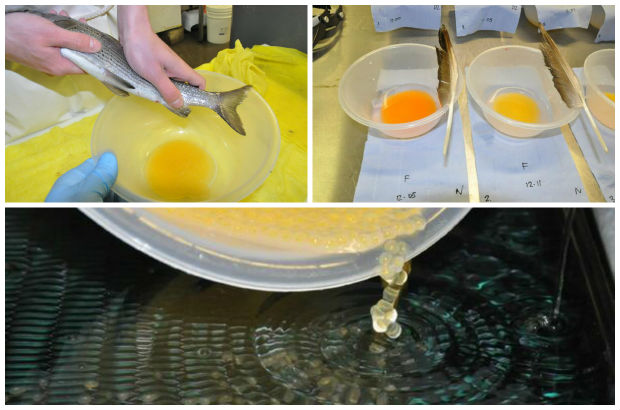 The adults are given a couple of days to recover and then they are all taken back, in tip top condition, to the rivers they came from.  Last year it was a bit chilly as we were doing this and Rab got the short straw and had to wade into a very cold river!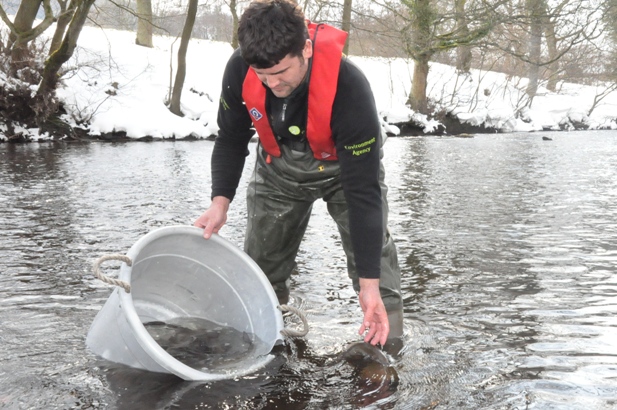 Once the dace and grayling eggs are developing nicely we have a short respite, time to win back some brownie points with our family before we get to May and an even more bonkers few weeks as we breed another seven species of fish. We'll let you know how that goes...
Alan Henshaw is the Team Leader at the Environment Agency's Fish Farm at Calverton in Nottinghamshire. His manager Louise Johnson tweets about their work.
The work at Calverton is funded by rod licence sales, this film created in association with Online Fishing TV gives a unique insight to the work of the Environment Agency to protect and improve fish stocks in England
Buy your rod licence online