Ever wondered who is at the other end of your phone call, email or letter when you contact the Environment Agency?  That would be our customer service, registration and incident hotline team, known internally as Contact Centre Services.
Our aim every day is to make it easy for you, our customers, to do the right thing for the environment. Whether you want to ask us a question about dealing with waste, report a flooding incident, inform us of pollution or buy your boat license  – our team can help you.
Each year our team talk to over 600,000 customers, answer about 85,000 emails, support the issuing of over 200,000 registrations and licences and ensure around 90,000 reportable incidents get to the right people in our organisation to respond to them.
But it's when we have a major incident our team really come into their own – during the recent flooding events in the south of the country our team handled thousands of calls from flood affected residents 24 hours a day, and we had a team of our contact centre staff on the ground with our Area colleagues supporting customers in their community during this extremely difficult time
At the moment we're busy supporting our customers getting what they need from our new and improved website recently moved to www.gov.uk   Built on the basis of understanding our customers' needs and having a website that truly meets them.  Our team know listening to customer's feedback and feeding this into our Digital team to keep improving is key.
Our team pride themselves on the service they provide to our customers. When the opportunity presented itself to once again to support Sport Relief by volunteering our own time to be one of the Official Contact Centres taking donations on the evening of 21st March 2014, our staff across the Environment Agency stuck their hands in the air to came forward. 
Working together for Sport Relief
Around 80 Environment Agency staff of all roles and backgrounds from as far away as Exeter and Newcastle joined staff at Contact Centre Services in our Sheffield office and for 1 night only and became a Sport Relief Contact Centre.  The team of volunteers knuckled down to the very important and serious business of taking donations, but we also managed to have a bit of fun through the evening to keep everyone going to midnight.   Hula hoop competitions, Sport Relief Noughts and Crosses, Stand Up Bingo were just some of the fun and frolics had by all.  At the end of a long day, our volunteers went home for a well deserved weekend with the knowledge that they had made a great contribution towards the exceptional fund raising totals Sport Relief received.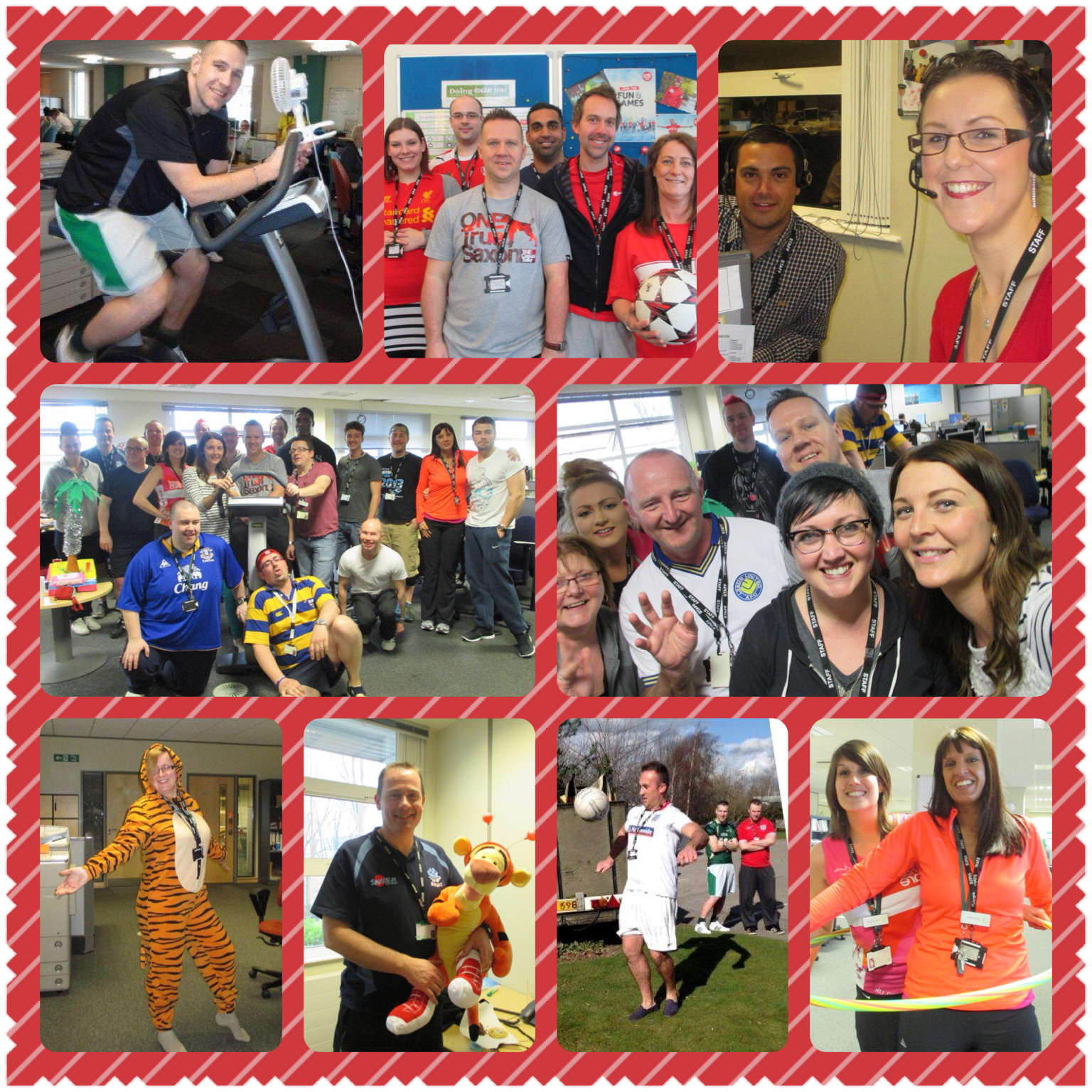 The true testament though is what our staff told us about the night....
Liz Buckle, Deputy Director Change Implementation:
 "Our Customer Contact Centre has a really good buzz about it so it was great to be part of this event and support the Sports Relief evening.  So many lovely people ringing up to make donations large and small.  It was nice to do something a bit different and feel that I had made a small difference to the event"
Victoria Slingsby, Senior Environment Officer:
"Volunteering with friends at this year's Sport Relief call centre was really enjoyable. We were well trained, well fed and certainly entertained! The staff who organised the event welcomed us and really looked after us. I got a real buzz from helping such a great cause and spoke to some lovely and remarkable people on the phones. I'll definitely be signing up again!"
Lissie Boar, Customer Service Advisor:
"I loved being part of the Sports Relief team taking calls on the night. There was an amazing atmosphere in the contact centre, the buzz of taking part didn't leave me for a couple of days. It was lovely to see new faces and meet different members of the EA from out of NCCC who were all as enthusiastic for the same cause as me. There was plenty of food and regular cups of tea/coffee to keep us going and answering the calls felt like a pleasure not a task late on a Friday night"
Tweet the team with your questions @EnvAgency.