A week in the life of a beach coordinator in Cumbria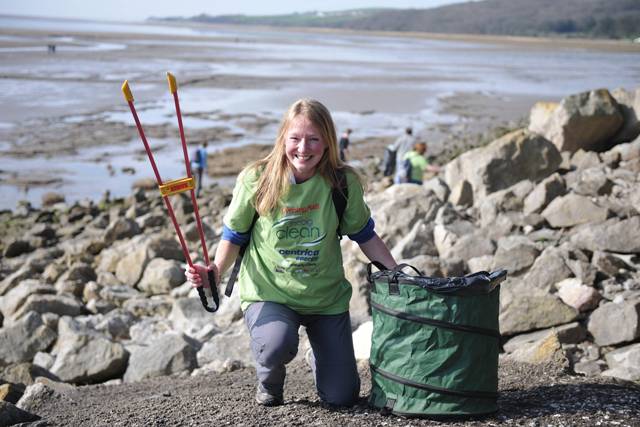 The seaside economy contributes more than £3.6 billion each year in England and it's crucial we protect our bathing water quality.
Bathing water quality in the UK reached a record high in 2014 – and has improved significantly over the past two decades – but there is more to do. Designated bathing waters in England now have tougher water quality targets to achieve as the new regulations are twice as stringent as the old ones.
I've listened to some illuminating stories from open water swimmers and ex-naval divers who all confirm that the water is a lot cleaner than 20 years ago. I used to swim each week in the River Mersey as part of my Naval Reserve training and never even thought about water quality – until now.
Litter doesn't affect the water quality but is something that everyone hates. Thankfully, we've got amazing volunteers who clean the coast from Ainsdale to Silloth. Cotton buds being flushed down the loo and ending up on our beautiful beaches really annoy me and they are quite difficult to pick up with a litter picker.
My week as a beach coordinator
On Monday, I presented to a Cub group and made some 'fat traps' with a Scout group. Fat traps are a great way to collect fat and greases after cooking for easy disposal. Afterwards, I spoke to a Scout leader who admitted she flushes cotton buds down the loo – she's not the only culprit, but hopefully now she'll put them in the bin instead.
Weeks ago, I arranged a recent beach clean-up at Bardsea. There was lots to prepare, including checking tide times, media promotion and getting the correct kit. I run 30 events each year and I support other partners promoting their events on Twitter and via www.lovemybeach.org.
Tuesday is the day of the beach clean. Seventeen volunteers set off to fill their bin bags. We started near Ulverston and walked along the pebbly coast to Bardsea.
Take your litter home
On Wednesday, I met the photographer Mandy Barker who really opened my eyes to the litter challenge across the world. One of her projects was to collect washed up footballs from around the globe to create a series of photographs to raise awareness. Her work is stunning even if the subject matter is a bit rubbish (pun intended!). It's really inspiring for the LOVEmyBEACH campaign.
Only rain down the drain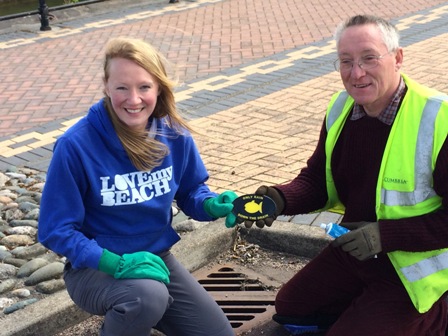 On Thursday, I met with staff from Barrow Dock Museum to explain what I was going to be doing in their car park putting 'Yellowfish' stickers on nine surface water drains – the first ones in Cumbria.
The stickers host a simple reminder: 'only rain down the drain'. Pollutants entering drains can cause pollution on beaches and can affect bathing water quality. Most road drains and surface drains are designed to carry only rain water, so pouring pollutants down these drains, is like pouring them straight into the river. I hope to be adding more stickers across Cumbria and in Morecambe soon. Back in the office, I wrote an article for the press on my work, sent some photos and got ready for an interview on Radio Cumbria. Six beaches were awarded Keep Britain Tidy's Seaside Awards: Morecambe North, Morecambe South, Haverigg, Silecroft, Seascale and St Bees.
Working with partners to improve water quality
On Friday, I held a meeting with five local authorities to discuss ways in which we can help them achieve cleaner bathing waters. I also presented at a public meeting to talk about how homeowners can check they don't have any misconnected drains. If you want to see how you can help visit ConnectRight.
No two days are ever the same but, contrary to belief, I'm unfortunately rarely on the beach.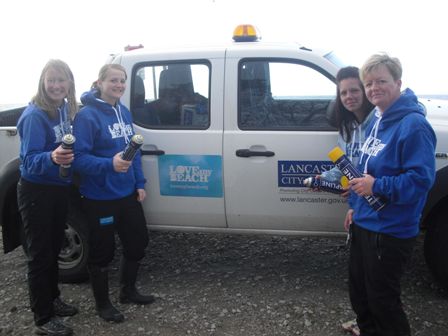 Everyone needs to play their part to help
The Environment Agency works with others to deliver improvements and protect bathing water quality for people, business and the environment.
Water companies, businesses, farmers, councils and householders all need to take action and help make decisions to ensure bathing water quality is protected and further improved now and in the future.
Visit www.LOVEmyBEACH.org to see how you can get involved and do your bit to help in the North West.
Heading to a beach or lake this summer? Before you take a dip, visit the Environment Agency's map to see the water quality online.
Emma McColm is a LOVEmyBEACH Coordinator based at the Morecambe Bay Partnership working on the beaches along the coastline of Cumbria, from Morecambe South to Silloth. Emma started in the role in 2012 and has learnt a lot about bathing waters and behavior change since then. Emma can usually be found with a smile on her face, saying hello to everyone!
LOVEmyBEACH is a campaign run by the Turning Tides Partnership - a partnership of organisations working together in North West England to do everything we can to improve the quality of our bathing waters. Through infrastructure, planning, campaigning, volunteering, educating, engaging and hard work, our aim is to make sure everyone enjoys our beaches for generations to come.