The River Derwent in Derbyshire was heavily used and altered during the Industrial Revolution. It powered the mills of the leading entrepreneurs of that time, Richard Arkwright and Jedediah Strutt.
There were two unforeseen legacies of this development - one was a deterioration in water quality and the other was that the installation of weirs to generate power for the mills hindered the migration of salmon to their original spawning grounds.
The Derwent was once home to a thriving salmon population - they were plentiful as a food source and were seen as a species of no great concern. Consequently salmon disappeared from the Derwent, particularly in the upper reaches.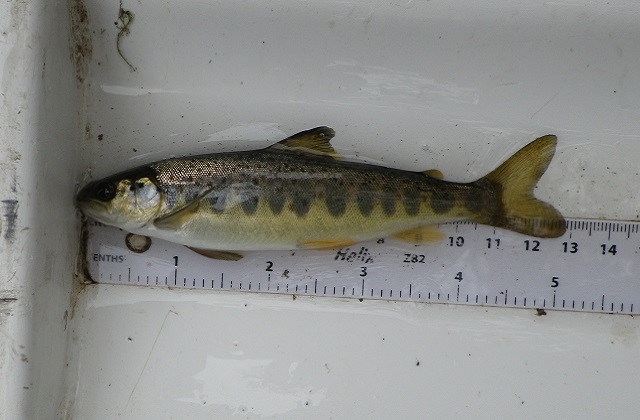 Through effective partnership working we have installed fish passes at Borrowash and Darley Abbey. These have opened up the Derwent to migration as far as Duffield. Commercial development of hydropower has also led to a fish pass at Longbridge Weir.
A programme of electric fishing surveys has been set up along the Derwent to track the success of the salmon and to give an indication of their numbers. These are targeted at sites offering favourable habitat to maximise the likelihood of catching salmon parr. There is evidence that the population is successfully migrating and the habitat continues to be suitable for spawning.
We opened the fish pass at Darley Abbey in autumn 2013, so seeing salmon in Duffield in 2014 suggests that adults had migrated through the pass and spawned that winter. Scales collected from the salmon support this, confirming that the parr were in the first year of their life and growing at a fast rate. The 2015 survey showed an improvement from previous years and anglers have also reported the majestic sight of salmon jumping in the Derwent.
Historically salmon were once well established within the River Derwent. Through our work with partners, water quality and habitat conditions have continued to improve. Although we're constantly faced with new challenges, by addressing barriers to migration and with a renewed focus on salmon it will help to see salmon return to the Derwent in good numbers in the future.
Lizzie Brailsford is a Fisheries Officer at the Environment Agency covering Derbyshire, Nottinghamshire and Leicestershire.