Chris Pedlar is a Specialist Team Member within Field Operations based at our Alverdiscott depot in North Devon and has been with the Environment Agency for 29 years.
Three years ago prostate cancer changed his life. But that didn't stop him from enjoying life. He shares his story for World Cancer Day.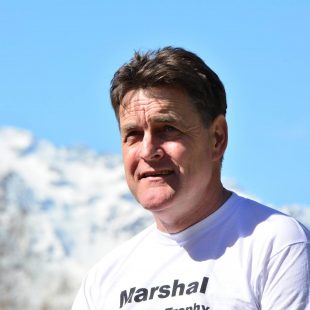 My grandfather died from prostate cancer. Then my father had prostate cancer 23 years ago. Thanks to surgery, he survived and remains strong, aged 83. And three years ago, I had prostate cancer.
My father always encouraged me and my brother to get our prostate specific antigen (PSA) tested. This advice saved my life. After three years of blood tests, my PSA levels suddenly doubled. Combined with the knowledge of our family medical history, my doctor recommended another test. The levels came back slightly lower, but alarm bells were still ringing.
I will always remember that moment the consultant broke the news: it was highly likely a biopsy would confirm I had prostate cancer, like my father and grandfather. It took a while to sink in. Driving back to work from the hospital, I pulled over and called my team leader. During that call the realisation kicked in – I was 48 and I had cancer - and I broke down and told to go home.
The following weeks were a roller coaster: the biopsy confirmation was actually a relief. But cancers spread. Then came more waiting, this time for scan results of my bone and bowel. Then more relief when these came back clear. Next came my options: surgery, radiotherapy, or wait and watch. I chose surgery.
Nearly three months to the day since diagnosis, I was sitting in my surgical gown and stockings from 10am, watching patients come and go. Some came for operations, some were sent home as time was running short. At 4.30pm I was finally taken into surgery. I had opted for a wide-berth operation which had a higher chance of success over the nerve-sparing surgery. Robotic surgery is less obtrusive and uses four operating holes, with a fifth for the removal of the prostate. Four hours later, I was wheeled into recovery. The patient can return home the same day. But like all operations, it is not without risks
I had to begin a month-long regime of injecting myself with anti-coagulants while recovering at home. The biggest effect of surgery has been to my sex life, as there is very little hope of any normal reaction. However I decided not to let these negative sides of my surgery get me down. I am still very much alive and loving life.
I count myself lucky that I had my PSA checks which picked up my cancer early. As with many men in early stages, there were little or no tell-tale signs to set off the alarm bells. This desperately needs to change if we are to have a significant effect on the numbers of men that die unnecessarily each year because they find out too late. No doubt there is that male element of 'ignore it and it will go away' and lack of knowledge on what signs to watch for. I urge men if they're showing symptoms or in a higher risk bracket to get checked. For more information go to : https://prostatecanceruk.org/