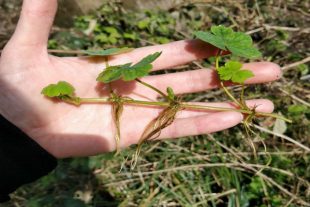 If a quick internet search for Floating Pennywort tells you anything, it's that this fast-growing non-native species is of increasing concern in the UK.
Introduced in the 1980s as an ornamental aquatic plant, Floating Pennywort's pretty appearance belies its aggressively invasive nature. A new population can quickly become established from a single fragment drifting downstream, soon dominating the waterbody with a dense raft of vegetation.
Total eradication is probably impossible – but we still have plenty of unaffected watercourses and wetlands that we should fervently protect.
A key challenge is that no one organisation or landowner bears responsibility for tackling non-native invasive species. There is no legal obligation for riverside landowners to remove Floating Pennywort (unless they are responsible for introducing it). Similarly, the Environment Agency has no duty to remove it.
But it's a bit like dealing with litter; we can all play a part in disposing of it properly and tidying up, even where it's not our fault.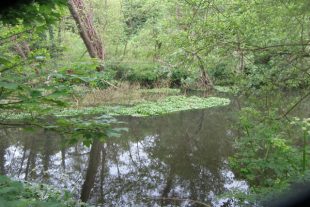 Pennywort easily gets caught up in trees
Learning lessons in the Lower Colne catchment
In a river catchment to the west of London's outskirts, Floating Pennywort has steadily expanded its range. In 2012, the Environment Agency cleared 4km of the plant from the River Colne. But without catchment-wide ongoing management, the problem returned.
Sadly, 2017 and 2018 saw parts of the River Colne engulfed by rafts of Floating Pennywort. We knew that something different – something wider-reaching and sustainable – had to be attempted if we were to avoid repeating the cycle.
We approached Groundwork South, the driving force behind the Colne Catchment partnership, ColneCAN. Together, we agreed a 2-year project to test out a new approach – to co-ordinate people across the catchment to remove floating pennywort, wherever and whenever it rears its pretty head.
In this partnership, ColneCAN manage the project, using its strong local base to draw in support and engage with the public, landowners and other stakeholders. For our part, the Environment Agency will continue to provide technical support and advice on environmental best practice.
Progress so far
We formed a project steering group of local stakeholders, which includes Hillingdon council, the Canal & River Trust, and Colne Valley Fisheries Consultative. We enlisted volunteers to map out where floating pennywort currently is in the river network.  And we now have the Lower Colne Floating Pennywort Management Plan – our plan of attack to fight the floating menace!
Next month, June 2019, sees the project's first work parties, where partners and volunteers will clear mats of Floating Pennywort from the river network. Look out for pictures on social media.
Workshops are essential for fostering skills among local communities dealing with something like Floating Pennywort.
As we continue to learn how best to reduce the range of Floating Pennywort in the Colne Valley, we will apply what we learn and make sure this is widely shared, both within the catchment community and with other communities elsewhere who could also benefit.
For more information go to Nipping Floating Pennywort in the bud!