The Environment Agency National Fisheries Services are international leaders in the development of tools and techniques to contain, control and eradicate high risk invasive non-native fish species. The work has achieved a number of UK firsts and significant milestones in the development of new approaches to invasive species management.
As a lead partner in the delivery of the Invasive Species Framework Strategy for Great Britain the Environment Agency is the enforcing authority for the Keeping and Introduction of Fish Regulations in the freshwater environment. Using these regulatory tools we respond to current and new invasive non-native fish threats.
 Invasive non-native fish have colonised the UK through a variety of routes including aquaculture, the ornamental trade, angling, the food industry and unintentional introduction. They pose a serious risk to our environment, native species and habitats. Species currently prioritised for action are topmouth gudgeon, fathead minnow and black bullhead. Where containment and eradication of these fish can be achieved sustainably, we take action to remove them.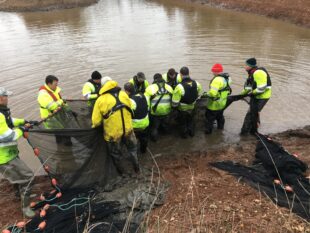 A strategic approach
In partnership with the GB Non-native Species Secretariat, Environment Agency National Fisheries Services have produced Rapid Risk Assessments and Invasive Species Action Plans for high-risk species like the topmouth gudgeon, fathead minnow, sturgeon/sterlet species and black bullhead. These plans have enabled the development of strategic, risk-based national management and eradication programmes. A rapid response eradication to new invasions is a vital component of our work.
Tools and techniques
Eradication of some invasive fish species can be achieved using conventional methods. However, some high risk species cannot be managed in this way due to their biology or the nature of the environment they occupy.  We have developed the use of biocides, specifically rotenone based piscicides, for invasive fish management in England.
Rotenone based piscicides
Rotenone has been used worldwide by government agencies to manage and eradicate invasive fish species, and parasites of fish. It is an effective management tool specifically because it is highly toxic to fish, and significantly less so to other terrestrial and aquatic organisms. Our studies indicate that when used appropriately non-target species exposure and impact is negligible and recovery is rapid. It is non-persistent, degrading rapidly, enabling re-establishment of native fish and restoration of fisheries.
A virtual team approach
Application of piscicides is a highly specialised operation, requiring skilled operatives, and specialist equipment. We have created a specialist National Non-native Fish Management Team from across our 14 areas, working on a virtual basis, the team can deploy quickly anywhere in the country to deliver programmed and rapid response eradication operations. This model has proved to be a very successful approach to delivering high impact, specialist operations.
Methods and equipment
Before starting our operations, we remove and hold as many of the native fish as possible, putting them through a 4 stage inspection and quarantine to ensure no non-native fish go with them.  Only then do we use a range of application methods including backpack spraying, bank and boat based jet systems for stillwaters,  drip stations for streams and rivers; and are capable of tackling large scale, challenging sites from small ponds through to 80 acre multi-lake fishing complexes, wetlands, fish farms and stream systems.  The rescued native fish are returned to the treated water as soon as it's safe to do so.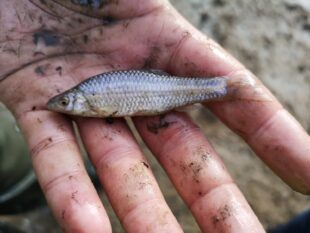 Successes
The non-native invasive species management team has successfully treated over 25 known populations of topmouth gudgeon. The team has developed improved detection and control techniques and has built up a fantastic knowledge base. This base has assisted area teams in promoting healthy fisheries through pertinent bio-security advice and fishery management techniques.
The future
The tools, techniques and expertise we have developed provide us with the capability not only to manage and eradicate invasive fish, but potentially to respond rapidly to new, novel threats from a range of invasive aquatic species including crustaceans, amphibians and invertebrates.  Through our National Fisheries Laboratory, we are working on the development of environmental DNA techniques to speed up detection of non-natives, and monitoring of their removal.