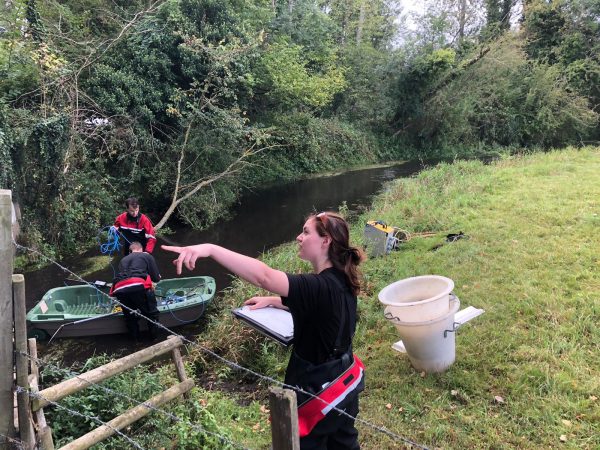 Between May 2018 and May 2019 parts of the South East of England received 30% less rain than normal.
The last three winters have been exceptionally dry and we have an on-going environmental drought across the region.
There is no doubt that this has been caused by the climate emergency. There is also no doubt that it is having a devastating effect on our chalk streams.
English chalk streams are one of the most precious and beautiful things in the natural world. They are known for their clear waters, rich wildlife and for providing a beautiful place for people to enjoy.
Chalk streams flow from chalk aquifers, stores of underground water that are replenished when it rains. Some groundwater levels in the South East are now at the lowest level ever recorded.
Sections of chalk stream regularly stop flowing during drier periods bur low groundwater levels are causing longer stretches than normal to dry up.
Chalk streams and chalk aquifers provide essential drinking water for people across the South East. Some water companies such as Cambridge Water are 100% dependent on this source of water. Without it taps would run dry.
Businesses and farms also rely on chalk streams. Without water they would not be able to operate. This would significantly affect the economy, the livelihoods of the people that they employ and the availability of the food we eat.
Balancing the needs of people and the environment is a challenge and it is getting harder. Population growth, particularly in the South East, means that more and more water is required at a time when climate change is reducing the amount of water that is available.
We are working flat out to limit the damage the dry weather is having and to ensure that water supplies are sustainable for the future. This includes taking immediate action to restrict the amount of water taken, developing long-term plans to reduce our reliance on chalk streams, working with partners on projects to improve water quality and stepping in to limit damage to wildlife and the environment when river levels are too low.
Whilst we have to take water from the environment to live, a process we call abstraction, we have got to make sure that abstraction is sustainable.We regulate water abstraction through our licensing system. By reviewing licences and reducing the amount of water people can take we have returned 16 billion litres of water back to chalk aquifers and streams since 2008 and removed the risk of another 14.9 billion litres being taken. This is equivalent to the average annual domestic water use of approximately 300,000 people – similar to the population of Nottingham.
We are also introducing new licences for thousands of people and organisations that have previously been exempt to further regulate the amount that is taken.
But abstraction regulation can only go so far. Longer-term solutions are dependent on finding alternative water supplies and reducing demand in the South East. This will mean extensive and costly infrastructure such as new reservoirs and pipes to transfer water from other parts of the country. Detailed plans for the new infrastructure that we need are currently being drawn up.
We are also working with numerous partners on a wide range of innovative projects to improve water quality.
Since 2011, our partnership work on over 60 projects has driven improvements to more than 70 kilometres of chalk streams at a cost of £4.3 million.
Our work in Lincolnshire is a good example. The Lincolnshire Chalk Streams Project has helped to deliver over 29 kilometres of improvements to date and plans are now in place to deliver more over the next five years.
The success of the project was recognised when it won the National Association for Areas of Outstanding Natural Beauty's prestigious Bowland Award.
In Hertfordshire & North London we have been collaborating with Affinity Water to reduce abstraction from pumping stations on seven chalk streams, transforming flows in an area of significant water stress and improving this unique and rare environment to meet Water Framework Directive targets.
We are also providing advice and guidance to farmers to limit pollution from fertilisers and soil run off and are bringing together groups of local partners to make decisions about the best way to improve water quality in local areas.
Our teams are on standby 24/7 to respond to environmental incidents such as fish in distress when river levels get too low. Anyone who sees an incident should report it by calling our incident hotline on 0800 80 70 60 so that we can take appropriate action.
We are doing everything we can within the legal framework and financial constraints that we operate in to increase the amount and quality of water in our chalk streams now and for the future. But much more needs to be done.
Earlier this year, our Chief Executive Sir James Bevan described 'the jaws of death' - the time when demand for water outstrips supply. To avoid even more devastating droughts in future we need to take concerted action now.
Water companies need to do much more to tackle leakage, planners and developers need to ensure that all new developments are water efficient and regulators as well as government need to work together to ensure that robust restrictions are in place before people can abstract water from the environment.
Businesses and farmers across the country, especially in the South East, need to reduce the amount of water they use and must stop pollution from entering our waters.
Individuals also need to play their part. People in England use a staggering 140 litres of water a day. In Denmark they use just 80 litres. There is no justification for the difference. Every drop of water that is wasted is water that could be sustaining our rivers, streams and lakes.
We are taking action to encourage water companies to promote the importance of saving water to their customers and have recently joined forces with over 40 partners to launch the Love Water campaign. This is aimed at encouraging people to use less water and to look after the water we have. We need the campaign to grow so that everyone knows that water is precious - so that everyone take action to protect it.
By using less and looking after what we have, we will be able to prevent even more devastating droughts in future and ensure that we have clean and plentiful water for generations to come. But we will only achieve this if everyone takes action now.