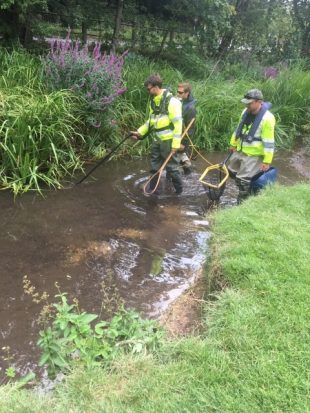 Fish rescue
The combination of a drier than average 3 years, high water consumption and climate change means that our environment is suffering. As a result, the Environment Agency's Hertfordshire and North London area is suffering from an Environmental Drought.
There is significant stress on our rivers and the life they support across a number of counties, including Norfolk, Suffolk, Essex, Cambridgeshire, Bedfordshire, Hertfordshire, and Buckinghamshire.
The South East has the highest water consumption in the country. Much of the water we use and take for granted on a daily basis is taken from rivers and groundwater reservoirs (chalk aquifers). There's lots of work going on to reduce current demand and avoid the 'jaws of death' but we still have a long way to go. You can help us by taking part in Defra's consultation on measures to reduce personal water use (closes on 11 October 2019).
Despite the heavy rain we've received over the last couple of days and the flooding we've seen in other areas across the country, the South East has in fact received lower than average rainfall over the last 3 years. Recent dry winters mean that we have only received around 50% of the winter recharge since 2016/17. Winter recharge is where our chalk aquifers are topped up with water. This is the resource that feeds our chalk streams and also the source of much of the water which we all use in our homes.
For the last 4 months we have been operating in incident mode for drought and have been making every effort to protect the environment as river flows have dropped. Throughout this summer, our Fisheries staff have been rescuing fish on our worst affected environments, chalk streams.
Dry river beds are not the only danger for fish. Where water levels fall, low dissolved oxygen levels can put fish at risk, especially where there is a lot of weed growth. Our Environment Officers have been carrying out walk-over surveys to look out for issues including human impacts on river flows, such as physical changes to hold back water.
We are out and about monitoring habitats, collecting evidence to inform decisions on drought and abstraction. By having this evidence we can support and enforce better planning to help conserve water for the environment. You can watch one of our monitoring methods in action in this video.
Over the last 3 years we have been working with water companies, farmers and businesses to balance the needs of water users. We have also worked with Affinity Water to reduce abstraction by 42 million litres per day since 2015, but we know this isn't enough. We have secured further reductions totalling of 33 million litres per day by 2025, a combined reduction of 12% of total groundwater abstraction in their central region*. Going forward we will continue to work towards further changes to improve chalk streams.
Water resource planning is moving from being done for and by individual water companies to being coordinated by regional planning groups, such as Water Resources in the South East (WRSE) and Water Resource East (WRE).
Water companies are developing strategic regional water supply options to import water into their supply regions. Options being considered have been and will continue to be put out for public consultation. Examples include water transfers via canals, as well as uptake from new and existing reservoirs. All options will be developed in collaboration with other water companies and with the regional planning groups. These options will not only improve resilience of water supply, but also reduce water companies' reliance on local groundwater abstractions.
Water companies are also starting to ramp up their drought planning to conserve water supplies for next spring. Another dry winter will very likely require Temporary Use Bans to be implemented next year. We will work with the water companies to do everything we can to plan and protect the environment should we not receive the level of rain we hope for this winter.
Local groups have been working hard to protect their local environments and have been in conversation with us to work out the best ways to respond to the impacts of Environmental Drought. They've been monitoring rivers and wetlands as well as gathering data to help us understand impacts.
We are taking action to encourage water companies to promote the importance of saving water to their customers and have recently joined forces with over 40 partners to launch the Love Water campaign. This is aimed at encouraging people to use less water and look after the water we have by taking steps to stop causing pollution. We need the campaign to grow so that everyone knows that water is precious and wants to take action to protect it.
Locally it is encouraging to see the passion that members of the public have for their local environment and their awareness of the challenges it faces. But we can still do more, so we want more people to join this conversation to help us make the environment a better place.
There is no doubt that what we are seeing is happening as a result of climate change. By using less in our homes, reducing business consumption and looking after what we have, we will be able to make sure that we have clean and plentiful water for generations to come.
But we will only achieve this if everyone starts to take action now.
*This is an estimate based on Affinity Water's average deployable output as per the final draft of their Water Resources Management Plan 2019.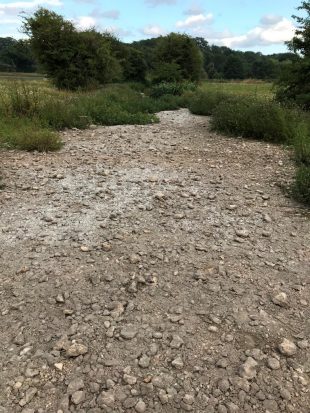 Dry stream