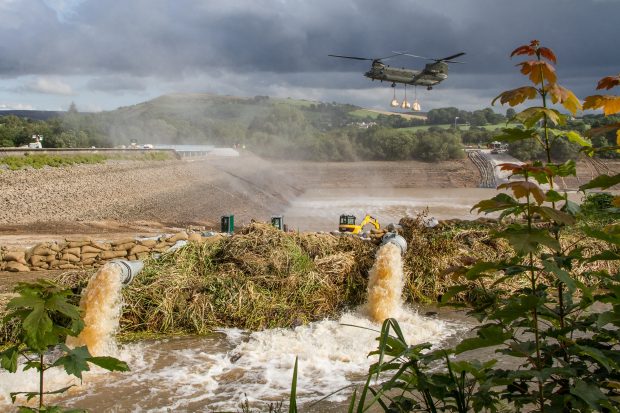 By Chris Wilson Operations Manager for Greater Manchester, Merseyside and Cheshire (GMMC)
Today marks 12 months since we first got the call that a dam known as Toddbrook Reservoir, in Whaley Bridge, was declared unsafe. For several days starting from 28 July, heavy rain had fallen across the North West and East Midlands; then, on 1 August, a severe flood warning, meaning a danger to life, was issued for Whaley Bridge.
Our multi-agency major incident plan kicked into action and 1,500 people were evacuated from the town.
I was in Whaley Bridge shortly after the evacuation and I saw for myself the effect this potential disaster could have on the lives and livelihoods of this close-knit community and my heart goes out to everyone still recovering from the shock of this incident.
There were a number of thoughts and emotions that struck me when I visited. Firstly the sheer scale of the impacts – a defining image of Whaley Bridge was looking out over the Toddbrook Reservoir to a ghost town below. An RAF Chinook helicopter had been drafted in to try and shore up the dam and the town itself had been taken over by teams from a range of authorities, including the Environment Agency, Canal & River Trust, the police, the fire service and army.
Thankfully in recent years we have seen few casualties from flooding but the sheer volumes of water contained in the reservoir (escapable capacity 1,288,000m3) presented an immediate danger to life.
Then, as with most disasters, what struck me next was the fantastic community spirit and our professional and devoted response. The local town had become the 'flood' HQ with groups of Environment Agency staff and partners working tirelessly and around the clock for over a week,to drain the water from Toddbrook Reservoir into the River Goyt with a huge pumping operation.  Military aid arrived along with the memorable RAF Chinook and the dam wall was packed with 530 tonnes of aggregate and cemented into place to reinforce the structural integrity of the spillway.
It was a true national scale event.  We had almost every Environment Agency operational team represented on the response – from pump specialists to duty managers and everything in between.  There were also many friends and colleagues from other areas putting themselves forward to help – something that I and our teams in GMMC have enormous gratitude for.
Five days of hard and difficult work later and the residents were finally able to return to their homes. Visiting Whaley Bridge again, I was greeted with messages posted around the village expressing gratitude to the teams who 'saved Whaley Bridge'. Pub landlords invited the response unit in for a free drink and once the community was back in action, members of the public kept our teams on site fully fed and watered.
The positivity and thanks received from the Whaley Bridge community was nothing short of heart-warming. While I was there, members of the community stressed just how much of Whaley Bridge was reopening – they wanted to make sure people came to support the local businesses and see for themselves the spirit that saved this town. These are the moments that stick with me after flooding incidents and motivate me and our staff to help make our communities as resilient as we can in a changing climate.
Throughout the last 12 months, we've been learning from the incident at Toddbrook Reservoir.  By the middle of August, we had inspected all our Environment Agency reservoir stock and we also exercised our reservoir regulatory role to instruct all reservoir owners across the country to do the same.
England has an excellent reservoir safety record. There have been no dam breaches resulting in the loss of life since reservoir safety legislation was first introduced in 1930. We do, however, need to make sure high standards are maintained. Last year's incident at Toddbrook was one too many and will continue to review and take on board lessons from these incidents.
Follow the Environment Agency on Twitter, and sign up for email alerts.