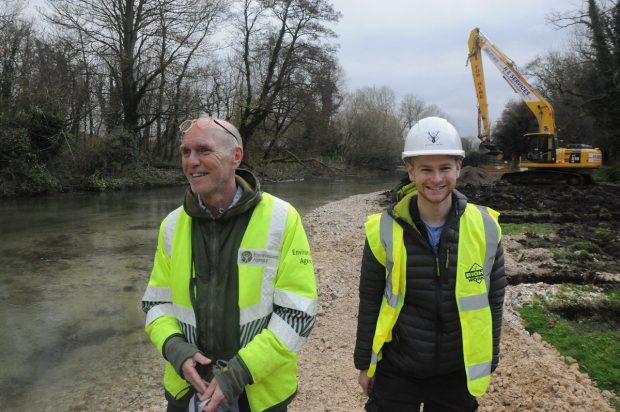 By Heb Leman, Test and Itchen Restoration Strategy Project Officer 
Chalk streams are rare and precious water environments, and here in the UK we are lucky enough to have more of these natural aquifers than any other country in the world. Their good quality water needs to be protected and maintained in order for the different species of fish, plants and insects, many of which are unique to these habitats, to flourish.
Chalk streams are a hugely important part of our environment, but historic industry practice – dredging, structures which slow flows and traditional fisheries' management of keeping things 'neat and tidy' – have all contributed to their degradation.
The Rivers Test and Itchen, both in Hampshire, were sadly no exception. These chalk streams, both designated as SSSIs (Sites of Special Scientific Interest), are world famous for their trout and salmon fishing. Dry fly fishing was invented here and consequently they are both held in very high esteem with anglers travelling across the globe to fish them.
Our restoration project
The Test and Itchen Restoration Strategy was set up as a joint project between the Environment Agency and Natural England in 2012 to restore the rivers to favourable condition. I jumped at the chance to take on the role of project officer and play my part in bringing these chalk streams back into tip-top condition. Having worked in the Hampshire area for the Environment Agency and its predecessor, the National Rivers Authority, since 1994, I had good local knowledge and experience of working on river restoration projects – and, crucially, knew lots of people.
These relationships proved to be key to the project's success due to the multiple landowners and fisheries, often sceptical of working with authorities, who needed to get on board with the overall strategy and improve their section of river - and contribute 50% of the overall cost. Together with the project's strategy team, I have worked with 28 landowners to restore nearly 15 kilometres of river.
Working together we have
Removed thirteen structures such as weirs and hatch dams that slow the flow of the river, making it more difficult to achieve the conditions required for chalk stream flora and fauna to thrive.
Added 20,000 tonnes of gravel and narrowed overly wide channels using woody material. This has raised the beds and further increased the velocity to create a habitat for species such as ranunculus to flourish.
Changed many kilometres of river bank from being manicured to natural, thereby improving habitat, creating cover, reducing erosion and making each river more resilient to climate change.
Brought together fisheries, landowners, anglers and multiple organisations including the Hampshire and Isle of Wight Wildlife Trust to change and influence attitudes and practices and achieve real results. By building these lasting working relationships and demonstrating the benefits of collaboration we have given people the confidence to work with us going forward and continue to make these positive changes that will benefit us all.
By creating the right habitat, the rivers have attracted species that weren't there before, such as wild brown trout – and everything else has now began to follow, clearly demonstrating that the rivers are beginning to thrive.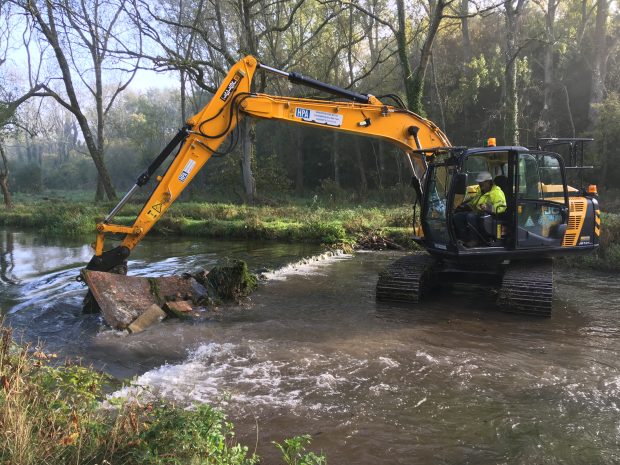 Award winning work
In recognition of the project's success, last month we were awarded the UK Rivers Prize 2020 for a catchment-scale project. It's taken 8 years to get where we are now and it hasn't always been easy to change things, but the award is testament to the fact that we're definitely moving in the right direction. Everyone knows each other on the Test and Itchen, and as the work has progressed, news of its success travelled fast and more people have got involved.
Importantly, there is now a definite change in how river keepers are managing each river on a daily basis. And with each project we have also looked to increase flood storage or reduce flood risk, so that there are multiple benefits to people, to wildlife and to the environment.
Ultimately, the project sold itself once the dramatic improvements of the first stages came to life.