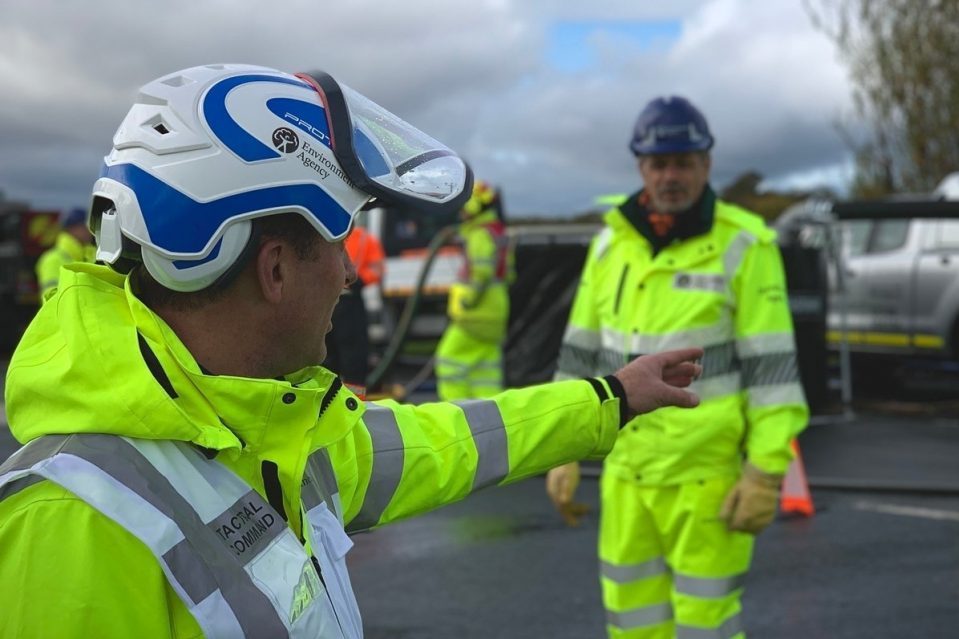 This winter might be a winter like no other, with us all making changes to our lives and routines, and adapting to new rules. But for the Environment Agency, many of the challenges we face are all too familiar.
The climate emergency is bringing more extreme weather – and with it an increased risk of flooding - which is why we are ready to take action wherever is needed.
At the same time, we're adapting to protect communities in a Covid-safe way. During Storm Aiden last month, we erected temporary flood barriers in Lancashire – at the time a Tier 3 area – all while following social-distancing rules.
And we're bolstering capacity across the country, working closely with the Met Office and other partners, and preparing contractors to support local teams responding to flooding in all areas of England.
Looking back at last winter
Over the last 12 months we have seen some significant levels of rainfall. February 2020 was the wettest February on record for England and the fifth wettest of any calendar month since 1862. In England 154.9mm rainfall fell, 258% of the average rainfall for the month. And just recently, the 3rd of October was the wettest day for UK wide rainfall since records began.
During the flooding we experienced in winter 2019/20, Environment Agency flood schemes protected almost 130,000 properties. Work to recover from these floods started immediately and teams checked over 14,000 flood assets between 12 February 2020 and 31 March 2020, with this regime continuing throughout lockdown to complete more than 20,000 inspections across England since last winter's flooding.
The good news is the checks showed the vast majority of assets remained at the required condition.  For those that aren't, we have put together a programme of repairs to make sure that they are restored before this winter, or that we have temporary measures in place to help reduce the risk of communities being flooded.
We're ready
This summer, we launched a new five year plan, EA2025, setting out how we will help to accelerate a just transition to a low-carbon and more climate resilient future. Along with this, we also launched the Flood & Coastal Erosion Risk Management Strategy which aims to create a nation ready for, and resilient to, flooding and coastal change – today, tomorrow and to the year 2100. Our strategy will help the country prepare for that future, but it starts now, ahead of this winter.
Investment in flooding has also significantly increased in the last year. In the March 2020 Budget, the government announced that it would double its investment in flooding and coastal erosion to £5.2 billion over the next 6 years. An additional £170m is also being spent on accelerating the construction of flood defence projects in 2020 and 2021. These long-term commitments will better protect 336,000 properties, including homes, businesses and hospitals.
We don't know what weather this winter will bring us but we are ready to take action wherever it is needed.  As well as making sure our rivers are clear from debris and our flood risk assets are maintained, our teams and key partners have been carrying out incident response training to ensure we can deal with whatever weather comes our way.
Throughout the year we have continued to build and repair flood defences. We have 250 high volume pumps available and 6,500 trained staff across the country, including 314 trained flood support officers. We're also making the most of new technology to prepare for and respond to floods:
We use drones and aeroplanes to map river channels and the extent of flooding
Nimble, remote-controlled boats help us monitor river flows and collect data
We use our flood warning system to directly alert over 1.4 million properties at the touch of a button when flooding is expected.
We use a wide range of social media and media channels to increase the reach of our warning messages.
Are you ready?
There are currently over 5.2million homes and businesses at risk of flooding in England, and with the climate emergency bringing more extreme weather, more frequent storms, more rain and more flood risk, it's more important than ever before that people understand their flood risk and how to deal with flooding.
As part of our annual Flood Action Campaign, Flood Action Week starts this week and we are urging you to check your flood risk and know what to do in the event of a flood. There are some simple steps you can take to do this:
Find out if you're at risk of flooding - check your postcode on the government's website
In many flood risk areas, you can sign up for flood warnings. These warn of the risk of flooding from rivers, the sea and groundwater. You'll be alerted by phone, email or text when flooding is expected.
The best way to protect yourself from flooding is to know what to do in advance – download and save a simple Prepare, Act, Survive plan so you'll know what to do when there's a flood warning in your area.