There has been a lot of discussion on Twitter about the Somerset dredge in the past couple of weeks. Keeping the community updated is an important part of this project. I know everyone wants a good job done quickly before the winter. And it's my team's role to make sure everyone gets an accurate picture of how it's going.
After nearly two months of dredging we're on track to complete the project by autumn 2014. The full dredge programme, which we've publicised via GOV.UK and Twitter, shows how (see map below). We'll be scaling up our activities over the coming months to achieve this. The teams on site are already working long days, five days a week and by June we'll have 6 teams working across the 8km of the Parrett and Tone. It'll be a real step change in the project as we boost resources across the summer.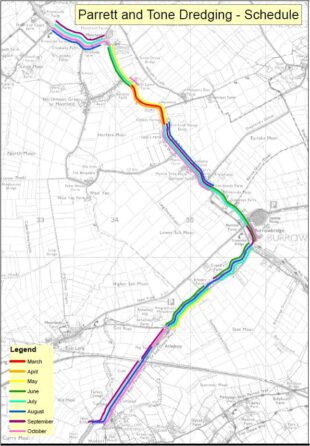 But we all know that publishing the programme alone isn't enough. What if our programme changes for better or worse? What if the work means local disruption? What if the community have questions about what they're seeing on site? We need to use many methods to share information and, crucially, to listen. A good example is our use of Twitter. The Flooding on the Levels Action Group (FLAG) told us we should be quicker to tell the community when dredging has to stop and why. They were right. Now we have a process in place to get information about key developments from the site supervisor and onto social media more effectively. We're also using our @EnvAgencySW Twitter account to give advanced notice of local footpath diversions, to promote opportunities to meet our staff at flood surgeries, and to cascade links to our more in-depth updates.
We've started a Flickr album too because there's no point in just telling people we're progressing well. Seeing is believing after all.

And we're piloting a new Facebook page to share updates on all our work across our Wessex Area (Somerset, Dorset, Bristol and parts of Wiltshire and Hampshire), including the dredge.
Of course not everyone is on social media. We need to give everyone a fair chance to speak to us. And we simply can't do everything online. I can't, for example, tell you why we need to load test the river banks before we can start up a dredger in 140 characters. But it's a great question that deserves an answer (If you're curious, it's because even a long arm extractor needs to sit on the bank to get silt out of the middle of the river - load testing allows us to check the stability of that bank as part of proportionate health and safety checks).
Offline my colleague Vicky answers questions like this at her weekly dredge drop-in at our compound at Gillards on Riverside, Burrowbridge. We produce a weekly dredge update that we email to community representatives and post to people without internet access. The last thing Vicky and I want is for residents to find out that access to their property may be restricted only when the official highways notice goes up. Hence we have colleagues hand-delivering letters and knocking on doors to talk with householders who have concerns about the dredge's impact on them.
If I had to write a hashtag for all this work it'd be #progressingwell.