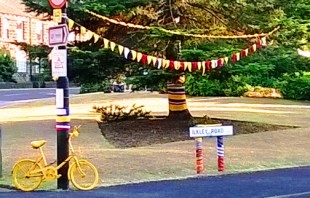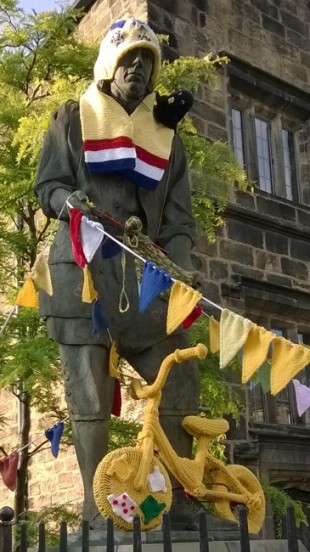 The banners are up along the route, potholes have been remedied, pop-up campsites are popping up and yellow bikes are being fly-tipped at a prodigious rate along the highways and byways around my home town of Otley.
The source of the madness is of course, Le Grand Depart. The first two stages of the Tour de France which has at last, after 100 missed opportunities, decided to spend two whole days driving its crazy wagon-train all around the hilly bits of God's own Country - Yorkshire.
Personally, as a cyclist, this is the best thing to happen since Lizzie brought her Olympic Silver Medal to the market place in Otley.   With Le Tour we will have about 300 miles of road to plonk ourselves on to get a look at the world's biggest sporting event.
What's more, the town cycle race (part of the UK Criterium series) is on the Wednesday night preceding Le Tour at the weekend.  This usually attracts about 5000 visitors and in the past has been graced by the likes of Wiggins, Cavendish and Downing. So I expect our beautiful town which is only 10 miles from Leeds to be absolutely rammed with visitors – more so than on a normal weekend.
Le Tour is also creeping or rather charging into my work life.  At the Environment Agency, we have been preparing for the event for months.   All those pop-up campsites are often in flood plains, in remote locations.  We have been working hard to make sure that we can keep people safe by providing flood warnings to our very welcome temporary visitors.   We also need to make sure that all those extra bodies and their bodily functions and behaviours don't result in pollution incidents!
Should the worst happen and it actually rains for once in summer, in Yorkshire, we need to make sure that we can get to our flood risk kit that keeps people safe when the worst happens.   However, with fantastic sunshine for Otley Show and Otley Carnival – the portents are favourable for our next big event – surely!?!
So what will I be doing on the big day?  Well, me and my baritone axe will be part of the Otley Ukelele Orchestra playing bicycle related songs in Otley in the morning.  I will be keeping an eye out for my colleagues; many of whom have volunteered to give up their time to act as Tour Makers to help the whole event go brilliantly.  I will then try and squeeze into Market Place to watch progress on the giant screens. The evening will probably be a BBQ in the warm evening sunshine at home.  Before tucking my visitors in, who are all camping for free in the garden, and then doing it all again the next day when the race passes close to Otley again
Once in a lifetime stuff, I hope you all enjoy it as much as I plan to 🙂
Martin Christmas is the Environment Manager for North Yorkshire at the Environment Agency. He is a keen cyclist, and local resident of Otley, West Yorkshire. 
For more information on what the Environment Agency does visit www.environment-agency.gov.uk.
For more information on the Tour de France and the Grand Départ here are some helpful websites: