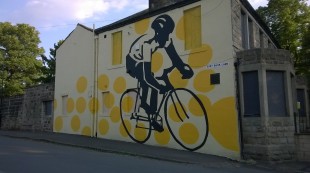 When I heard rumours of Le Tour de France starting here in Yorkshire, I kept my eyes glued to news feeds and twitter for confirmation. The moment Gary Verity made the announcement in December 2012 I decided to put my name down as a 'Tour Maker' at the earliest opportunity.
No sooner had I having signed up to direct crowds, point out toilets and pick up litter, my hopes were dashed by the  Environment Agency's 'standby' rota in South Yorkshire where I am down to cover the weekend of the Grand Départ.
Although my colleagues are prepared to swap shifts every now and then, this weekend is a little different – barbecues and beers are in abundance. So I decided to be part of the team that will take on the challenge of responding to all environmental incidents across South Yorkshire for probably the busiest weekend  in years...
Incident management is the favourite  part of my work - dealing with traffic accidents, fires, explosions, hazardous materials and water pollution all come up from time to time and it's my job to ensure that people and the environment are protected from harm. When I'm not dealing with the dramatic stuff, I  work hard with my colleagues to improve the quality of rivers and habitats in South Yorkshire.
Considering the heavy industrial legacy  of our patch, we are delighted that the water quality of the rivers Don, Dearne, Rother, Sheaf and Doe Lea  are the best they have been in decades and we are hoping to see salmon and sea trout back in the catchments very soon.
Obviously the influx of up to a million people into our region over the next few days is going to be a big test of our resources and resilience, but it is a challenge we are well prepared for. We have been helping our regulated sites near the route to prepare for the logistical challenges, as well as working closely with Yorkshire Water and local authorities to ensure that campsites and spectator hubs are equipped to deal with their waste and sewage without harming the local environment. I know colleagues in our flood department have been working hard too – we've got a full rota of staff ready to deal with whatever might happen!
I'll be watching Sunday's events unfold in Sheffield with a burger (but sadly no beer) in hand, hoping my phone doesn't ring and that everyone coming to Yorkshire has a brilliant weekend in one of the country's most picturesque landscapes. Eat, drink, be merry and take your litter home – preferably by bike!
I will be posting more updates over the weekend on twitter via @alistairlabanEA and @EnvAgencyYNE with a follow up blog early next week.
Alistair is an Environment Officer in South Yorkshire for the Environment Agency. 
Click here to find out more about the Environment Agency
Click here for more information on Le Tour de France