Friday morning, 7am and I'm already in the office getting ready to set off down to Doncaster to get involved with emergency response training for the council's staff who are out on the ground when an emergency hits.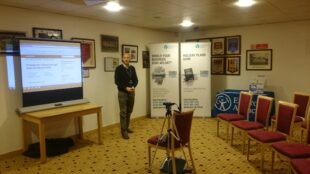 With all the kit packed and ready to go myself and my manager, Simon, go over tactics. We want to make sure that people get the best out of our presentation about the Environment Agency's role during an incident and the 3 steps to being prepared that we're promoting through our flood action campaign.
Similar to training sessions we've delivered internally, Friday's training was a little bit like speed dating. We get the delegates to move from presenter to presenter and they are given an insight into different topics. By doing it this way, we hope that they can understand the aspects and situations better which surround their role as an emergency responder. Also, keeping it to just 15 minutes a session means that everything is fast paced, full of energy and avoids death by PowerPoint!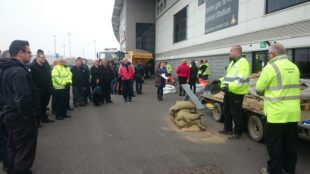 Alongside our colleagues who work in our field teams, we presented to over 120 council officers and talked about:
how we share information with our partners and the public
our responsibilities before, during and after a flood
what we are trying to achieve with the flood action campaign
how others can get involved
how to build an effective sandbag wall that will help protect properties from flooding.
Two hours later, all the presentations are over and Simon and I are sharing feedback with the other presenters and organisers. We checked a number of postcodes to see if they were at risk of flooding and even managed to sign seven people up for warnings. All in all a good day's work – now it's time to get back on the M1 to promote our messages further.
Thanks for having us Doncaster and remember,
Floods Destroy, Be Prepared.
You can see if you're risk of flooding by going through our three step plan. Why not check our flood map to see if you're at risk of flooding and then sign up to our free flood warning service.