The Environment Agency is involved with the Turning Tides partnership, which brings together organisations, local councils and community groups to improve the quality of local bathing waters.
Keep Britain Tidy's Chief Executive, Rich McIlwain, sets out how this partnership is helping improve the standard of bathing waters at beaches in North West England.

If the sun's out chances are I'll head to the beach. Those who know me will be relieved to hear that Speedos are not my beachwear of choice! Beach clobber does, however, include a bag for rubbish.  It kind of goes with territory when you work for Keep Britain Tidy. We're passionate about looking after local places like parks and beaches, so when the opportunity came up to join the Turning Tides partnership in the north west to help improve bathing waters, we jumped at it!
We know only too well that when lots of people get behind a campaign, we can really make a difference. The new European standards for water quality come in this year – I won't go all geeky on you and go into detail here – have a look here if you're interested in the technical stuff. At Keep Britain Tidy we feel it is important that water is as clean as possible where people swim and paddle – not just to protect public health, but also to make sure our beaches are well loved and used. Deep lungfuls of fresh sea air work wonders for slowing the heart rate and giving that feeling of freedom you get from wide open spaces.
Masses of work has already made the sea cleaner and that is great. In 1988 only 18% of beaches designated for swimming met strict European water quality standards. In 2014 they all passed. But the yearly pass / fail system has been replaced with a classification based on four years of water sampling results. This gives a better overall picture but the amount of bacteria in the water to meet the sufficient standard has been halved. I promised I won't get technical and I won't.  Basically the bacteria are tiny – invisible to the human eye – and are generally diluted with rainwater before washing into the sea. If you're eating your breakfast, look away now... these bacteria come through the sewage network or wrongly connected rainwater drains, from animal slurry on farms and faeces (poo to you and me) from bird and dogs on or near the beach.
Heavy rain can result in bacteria from these sources washing into the rivers and sea. Unless you know something I don't, there's not much we can do about the weather.
But we can check our drains, stop flushing sanitary items or wet wipes down the toilet (please put them in the bin), put cooled kitchen fats in the bin not down the sink and collect rainwater in a water butt. These all relieve pressure on the sewerage system. If you take your dog to the beach, bag and bin its mess and don't feed the birds. You wouldn't believe how much bacteria is found in bird poo.
So getting back to where we started – partnerships. As standards tighten – improvements can't be delivered by any one organisation. We need to work in partnership, and happily this includes you. I'm pleased to say we're all united behind a common cause – cleaner seas. Along the Fylde coast, work for LOVEmyBEACH is done by our BeachCare officer, Emma. There are 8 community groups in Fylde that work hard to keep the beach clean – all made up of volunteers and busy spreading the message for us. Every year they do over a hundred beach cleans. Businesses also support the LOVEmyBEACH campaign – here's a picture of United Utilities staff on a beach clean in sunny Lytham.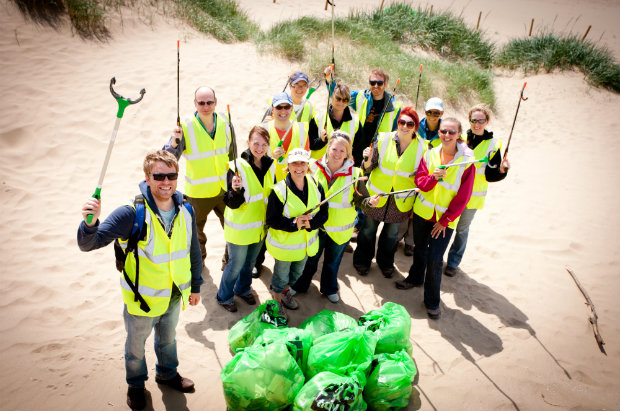 The sealife centre in Blackpool was one of the first to sign up and is a huge supporter. The staff at Barkdale dog grooming salon make sure their clients know how important it is to pick up after their dogs and gave out thousands of dog poo bags for us – real scooper heroes! Children also love supporting us – like one bunch who came along to a fun day at Allonby in Cumbria to learn all about looking after the beach.
No one organisation can tackle the pollution alone. That's why we all work together. No matter what else we may disagree on, everybody has happy memories of beach holidays and wants others to have the same. So next time you're going to the beach, check out the water quality on the Environment Agency's bathing water website or visit www.lovemybeach.org.
Remember, our bathing water is cleaner than it has ever been – but the tightening standards mean that we have even more work to do to create an ever cleaner and healthier coast. Not been to the beach for a while? Hopefully, this article will encourage you to not only pay a visit but to take part in helping improve our beaches.
[Speedos optional]
Rich McIlwain is the Chief Executive of Keep Britain Tidy, a member of the  Turning Tides partnership.