My kids and I sometimes creep around the countryside at dawn and dusk to spy on wildlife, be it otters, barn owls, snakes, newts, bats or stag beetles.  We are always enthralled by salmon in our local river, the Itchen in Hampshire. It's not just the magnificent size and spectacular colours of these 'king of fish' that impress.  Their behaviour, their struggle for survival, leaping clear out of the water and spawning in huge redds, is easy to observe first-hand and makes life-long memories.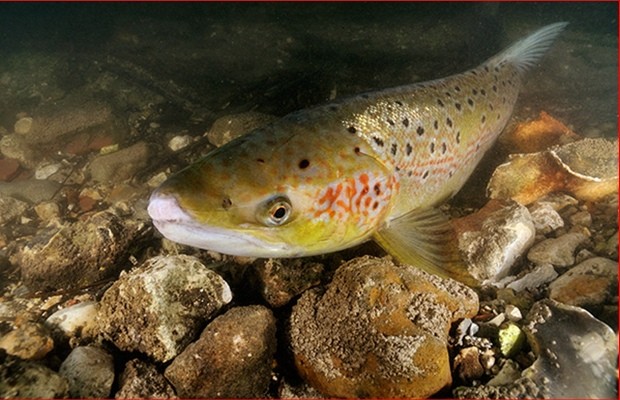 The awesome life-cycle of the salmon species has captured humanity's imagination across aeons and is engrained into countless cultures, ancient and modern.  The inherited instinct to return, against all the odds, to the place of their birth to spawn, die and decay (the phenomenal cycle of life) is profound. So profound, in fact, that the population on the River Itchen and neighbouring River Test has evolved a distinct, unique, genetic make-up slightly different to other Atlantic salmon populations. Theirs is an epic migration worth celebrating!
But salmon populations throughout the UK are in decline. The possible reasons are easy to identify, though their relative effects are harder to quantify. A changing climate, historic land use and intensive land management, unsympathetic river management, water quality, abstraction, exploitation at sea and in-stream obstructions all take their toll. Angling itself can have an adverse effect but the risks have been largely avoided by adopting good practice and, locally, by a 100% catch-and-release policy on the Itchen and Test.
However, not everyone supports sustainable fishing, not when there's an easy buck to be made. Traditional, romantic notions of poachers taking 'one for the pot' are outdated and increasingly the activity is driven by commercial gain. A 20lb salmon, like the one caught illegally at Redbridge, Southampton, recently, may be worth £200. Intelligence we share with the police indicates that serious criminals are poaching salmon and sea trout on local rivers and hawking their fresh catches to local gastro-pubs.
Poaching has the potential to seriously damage fish stocks, deplete our natural heritage, and ruin legitimate recreational fishing for future generations. Repeated year after year, poaching will result in long-term decline in the size and ecological integrity of the local salmon population.  The Itchen Salmon population is estimated at just 650 returning adult fish. A large female salmon carries up to 10,000 eggs, so if these fish are removed on a large scale it can significantly reduce the number of adult fish and remove their progeny from the future population.
A traditional poaching method doesn't even require a rod and line. We confiscated the 'snatch' pictured below (a weighted treble-hook which is used to deliberately 'foul hook' or impale fish) from the Lower Test reed bed, near Southampton last week. Poachers use these home-made weapons to 'snatch' fish.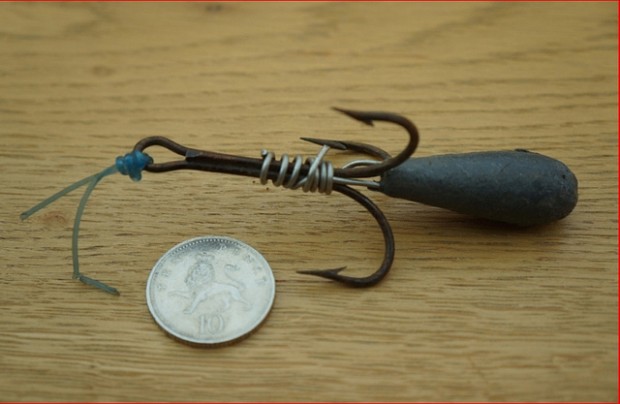 Poaching on a large scale is only financially worthwhile if there is a commercial demand. That is created, sometimes unwittingly, by local food outlets, who are themselves committing an offence when they purchase an illegally caught wild sea trout or salmon. But it's easy to spot suspect fish: the only wild English salmon and sea trout that can be sold legally must have been caught in licensed net fisheries and must have a carcass tag attached to the mouth and gills - and there are no licenced salmon and sea trout net fisheries in the Solent. If a wild fish is offered for sale without a tag, it has either been caught illegally, or by rod and line or netted. The uncertainty in supply means that these restaurants and pubs are unlikely to offer local sea trout or salmon in their standard menu.
We need people to be on the lookout for 'daily specials' offering 'wild or locally caught' sea trout or salmon. Likewise, if you see any wild caught salmon or sea trout being offered for sale without a carcass tag, please call us immediately on the Environment Agency's 24-hour incident hotline on 0800 807060.
#PoachersBeware