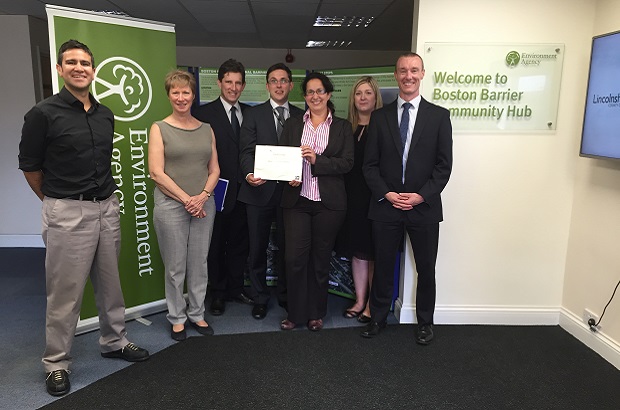 Following severe storms in December 2013, the east coast endured the most significant tidal surge in 60 years. This affected many coastal towns and communities. Here in Boston, Lincolnshire, over 800 houses were flooded across 55 streets. In any community, the distress and economic cost of flooding lasts long after the water has washed away – we're no different.
The Environment Agency's job is to reduce the risk of flooding for people, their homes and businesses. For Boston, we're planning to build a £90 million tidal defence barrier that will protect 20,000 homes for over 100 years. It's an exciting project - by December 2019, the barrier should be fully operational, helping Boston weather future storms.
Building the barrier is essential, but it is not the only thing needed for flood prevention. We're working to get the community signed up to future flood warnings. We've been joined by 16 new flood wardens in the area and have seen a 57 per cent increase in registrations to our free flood warning service Floodline. We've also created twitter and facebook pages to talk about the barrier and we've also opened the Boston Barrier Community Hub so that anyone can come and find out more about the project.
Boston's a great place to live and work. There are over 20,000 migrant workers here. We're in the community making all of our information available in a variety of different languages. We worked with the Polish Consul General and Boston Borough Council on a special event where Polish residents could renew or apply for passports and register for free flood warnings at the same time. The event was promoted widely in the media, the council featured an article in English and Polish in their newsletter, and we registered over 65 Polish residents in Boston to Floodline.
As a result of this community work we've been shortlisted for Community Engagement Campaign of the year at the PRmoment Awards and the 2015 Public Sector Communications Awards.
Our focus is now making sure we get our Transport and Works Act Order to the Secretary of State on time. We need this because the Boston Barrier will cross navigation used by the Port of Boston, Boston and District Fishing Association and recreational river users. If this is approved, construction can begin on the barrier in 2017 and be completed by late 2019.
We're obviously proud to be nominated for an award, but the real reward comes from successfully protecting the community. We never forget about the distress flooding causes to people, so we really want to encourage everyone in Boston to sign up for free flood warnings. You can do that here:  https://fwd.environment-agency.gov.uk/app/olr/home
Dominic Burton is a Communications Specialist at the Environment Agency working on the Boston Barrier since the tidal surge on 5 December 2013. Dominic ensures all our stakeholders and the community are involved and consulted on plans for this major tidal flood defence.