While we definitely feel the 4 seasons in Norfolk, we also experience another - the saline season.
During this (generally) cold, wet and windy season (September through to March), surge tides push saltwater into the tidal rivers. However, add a strong northwest wind and we have a problem!
This sudden influx of saltwater can trap fish in the boatyards and dykes where they rest in over winter. This surprise is not good if you are a freshwater fish, and in the past, large numbers of fish have died.
So, how do we protect the fish? We know that a local boatyard on the Norfolk Broads (Potter Heigham) is a refuge for fish over the winter so we installed a special barrier across the entrance that is raised during surge tides. This stops the salt water from entering the yard and protects the fish.
But how do we know when to raise the barrier? This is a big team effort, starting with our flood forecasting experts. Clever tide forecasting and predictions warn us that a surge tide is on its way, so we can prepare. However, this does not tell us how quickly the surge tide moves up the river.
This is where my team comes in. To find this out, we use some water quality monitors called sondes that record the level of salt in the river. These are supplied and maintained by our national water quality instrumentation team. You can find out more about them by reading their blog https://environmentagency.blog.gov.uk/2015/09/29/the-sonde-of-music/.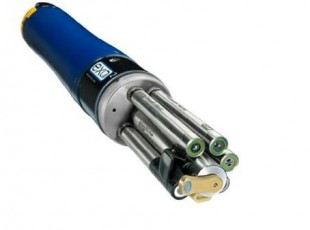 We then put the equipment out at the agreed sites (the mild autumn this year was certainly appreciated!). The data is sent to the office via the internet so we can see the salt levels live. This allows us to track the salt as it moves up the river. On the River Bure system, we have sondes at Acle and Repps. If the salt gets to Repps, we have enough time to get out and raise the barrier at the boatyard.
These sondes therefore have a very important job. They help us understand more about the surge tides and how best to protect the fish. If the barrier has to be raised, our environment officers and fisheries experts do so and also collect extra salt data across the river system.
We are so lucky to have a passionate community of anglers that also want to get involved. As a result, we have a network of volunteers that collect additional salt level data across other rivers. This increases our coverage during an incident and helps identify other areas that could be protected in the future. This really helps our understanding of these surge events and their impacts.
While we hope for a quiet surge season this year, we have our sondes telling us exactly what is going on. If you do spot any fish in distress or dead, please let us know by calling our incident hotline on 0800 80 70 60.