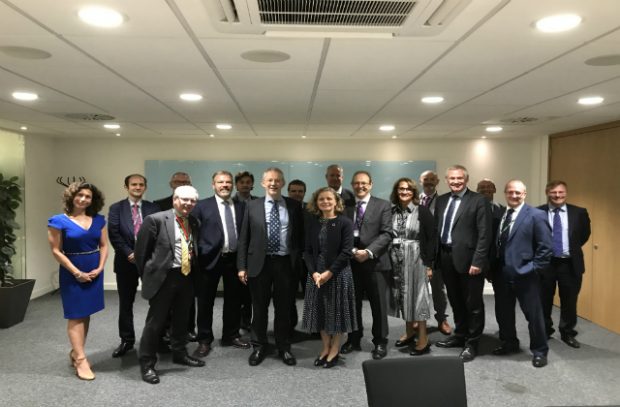 The mention of a new partnership may not get your pulse racing, but teaming up with various groups across the country, has led to some of our biggest successes.
Take our work on creating and maintaining flood defence schemes, for example. Much of our success in reducing flood risk and protecting communities across the country is down to a mutually supportive partnership with contractors, local authorities and local communities.
So it's no surprise that partnerships play an equally important role in raising standards in the waste industry and fighting waste crime.
Illegal waste sites undercut legitimate business, can cause severe damage to the environment and misery for local residents. We are determined to make life hard for criminals and support legitimate business by disrupting their networks and taking enforcement action and prosecutions whenever possible.
Whilst we have an important part to play on the regulatory side of things, it's important to hear the experiences from other stakeholders such as local authorities, trade associations, waste operators, local groups and residents, to ensure that waste criminals are duly penalised.
Based on all this, I was really pleased to attend a waste round table meeting this week with members of the Environmental Services Association (ESA), who represent the resource and waste management industry, and Minister Therese Coffey, MP, to discuss ways we can continue to strengthen ties to raise standards across the sector and tackle waste crime.
The aim of the new partnership is to utilise the industry's technical expertise to assist the development of effective regulation so the EA can focus its resources where they will have the biggest impact.
It's still very early days and there's still plenty of discussions to be had, but in the meantime we've agreed some key priorities between us, including:
The need to refresh our approach to regulation by sharing key challenges, e.g. waste fires, and agreeing how best to tackle them using the combined resources of the EA and the best performing operators
A system of earned recognition in the sector enabling the EA to focus resources on the poorest performing sites and waste criminals who ignore their obligations and pollute the environment and harm local communities
Sharing intelligence and taking tough action against those who pass their waste on to illegal operators failing to deliver their Duty of Care. Waste crime often occurs at the end of a supply chain where there have been failures in Duty of Care by those at the beginning 
Improving technical competence in the waste sector – working with Government to ensure that waste is only handled by suitably trained personnel at sites operated by companies with sufficient financial reserves to meet their obligations
On the day, Sir James Bevan, our Chief Executive, said: "I'm extremely pleased to be strengthening our relationship with the Environmental Services Association to raise standards across the sector and fight waste crime.
"We want to work with responsible operators to deliver more targeted regulations and but also focus our resources on hitting the worst offenders which is good news for legitimate businesses, the economy and local communities. In addition, a more proactive approach to duty of care will plug weaknesses in the supply chain and prevent waste from leaking into the hands of criminals."
There's still a long way to go but others round the table praised the approach. Dr Stewart Davies, of the Environmental Services Association, said, "At a time when waste crime seems more entrenched than ever, it is vital that the regulator is able to trust ESA Members to do the right thing and focus its resources on criminals and poor performing operators. The industry is an excellent source of technical expertise which will be made available to help the Agency deliver its objectives. This is a fine example of regulatory best practice which can be an example to other sectors."
So yes, we may overuse the word partnership from time to time, but it works and without it we wouldn't be able to deliver the great work we do.