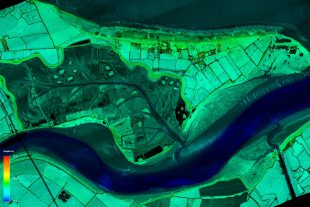 It's been 2 years since we made our lidar (light detection and ranging) data available to the public, for free, as open data – and the interest in it has been incredible.
In 2016/17, over 500,000 lidar downloads were made from the Survey Open Data portal. That equates to nearly 13 million km2 of data – or the whole of England nearly 100 times.
We capture lidar data in England mainly for flood risk mapping, and by 2015 we had covered about 72% of the country. Since then, we've surveyed thousands of square kilometres to add another 3% of coverage. Because we gather this data to better understand flood risk, we concentrate on high-risk areas first, and places where there's the greatest need for up-to-date topographical data.
So although we have been surveying lidar for 19 years, this mapping work has been focused on flood plains, urban areas and the coastal zone. We now need to enhance our understanding of whole catchments to best understand flooding and plan effective defences. Plus, we want to collect data from difficult to reach upland areas, including National Parks, AONBs and SSSIs, environmentally important areas of the country that, until now, have not been fully surveyed.
One of the most common questions we have been asked by data users since we went "open" is, "When are you going to survey the rest of England?"
Well, now we are! Starting this winter flying season, we plan to survey the whole of England at 1m resolution, within the next 3 years.
Our aim is to deliver a full national lidar height dataset by mid-2020. As has always been the case, we will only capture lidar in winter. Flying in winter when the trees are mainly bare means less leaf-cover, so more laser pulses reach the ground. This gives us a high quality Digital Terrain Model (DTM).
There are a number of benefits from the project:
Our data will be more consistent across the country, particularly for wide scale mapping and modelling.
Currently 40% of England is either not surveyed, has been surveyed at 2m (meaning it's not as good quality) or the data is more than 10 years old. For most research and modelling, data needs to be current and at 1m resolution or higher.
Partners like local authorities, utility companies can use our data for projects to reduce flood risk.
Having full national coverage will enable us, Defra, NGOs, local authorities and other environmental organisations to carry out conservation projects in many more locations.
Our new lidar technology enables us to fly at a higher altitude, covering larger swathes of land with each flight.
Since lidar data was made open, we have received requests from commercial operators looking to develop national products which include lidar data, for example rooftop solar potential maps.
The project will take about 3 years – but fear not. You will not have to wait until then to get your hands on all this new data. We will still release time stamped and point cloud data onto the Survey Open Data platform in our regular half yearly updates.
This Year's Programme
We have divided the country into 227 survey blocks and aim to capture a third of that each year. As always though, weather conditions and operational issues play a big part in our surveying and can disrupt flying schedules.
If you want to know where we plan to survey during this flying season, check out our survey programme here: http://arcg.is/2iqlqcM.
Find out more
You can find further updates through our Twitter or Facebook or contact us at geomatics_data@environment-agency.gov.uk if you have any feedback or suggestions.