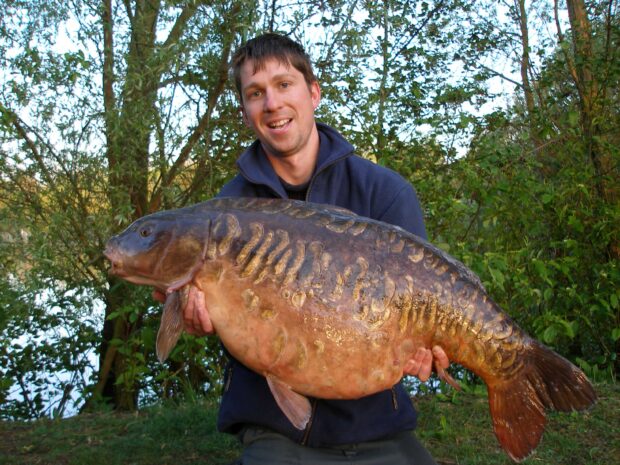 Neil Trudgill is a Fisheries Technical Specialist. After studying fisheries at Stirling University he began working at the Environment Agency in 2000 and has worked in the fisheries department ever since.
My first memory of fishing is from when I was 6. My dad took me with him on the South Esk after salmon.  He set up a small spinning rod and with his help (a lot of his help) I managed to catch a small salmon (grilse) of about 4lb, not bad for a first fish! After that I remember him taking me fishing at Roundy park in Leeds when I was 7.  I caught a ruffe and a bream.
It wasn't until we moved out of Dundee to rural Perthshire when I was 10 that I really got into fishing. First it was trout and perch in the river near our house, then pike fishing in the lochs.
At University I'd go pike fishing with uni friends including an annual camping pilgrimage to Loch Awe every March.  Back then we slept on the floor of the tent, ate pot noodle washed down with beer and played pranks on each other to keep entertained (the collapsing beach chair was always a good one).  Once it snowed so much in the night that everything we had left out was completely buried.
Since moving to Leeds I have developed a passion for barbel and chub fishing. But with a family, time has now become more limited. My fishing has moved to shorter sessions of mainly fly fishing; trout, grayling and salmon.
The variety of fishing is the main attraction for me.  This is not only in terms of species, but the places it can take you to – whether it be pollock fishing on the rugged coast of Skye, pike fishing on the grand expanse of Loch Awe, catching trout from the tiniest stream, or stalking carp on a lilly pad covered pond.  Fishing can take you to some wonderful, wild places and it can lead to memories that last a lifetime.  Through fishing I've met so many interesting people, make friends for life, become closer with my environment and the other wildlife, and immersed myself in another world, away from the stresses we all face.