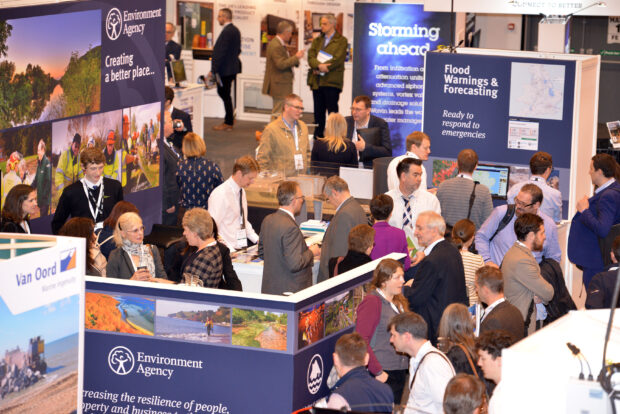 I've been with the Environment Agency now for 20 years in a variety of roles. As part of this I've worked with lots of different people – inside and outside the organisation. And that's one of the key things that's kept me loving what I do.
Whether the focus of a conversation is regulatory, partnership or just simply enthusiasm for a specific topic or place, partnership and collaboration somehow makes things easier. I'm very clear that creating better places for people and wildlife is not something the Environment Agency can do alone, so working together is essential.
In flood and coastal erosion risk management there are a lot of organisations, groups and individuals who have a part to play. We have different responsibilities covering different aspects of flooding and coastal erosion. But the point is we all work together to achieve the common goal of reducing risk.
That kind of collaboration doesn't happen without hard work and connection. And one of those places where the connection happens is at our annual Flood and Coast conference. This gives us the opportunity to form and strengthen those partnerships, to share and learn from one another, and to discuss the challenges of the future. Held at Telford International Centre on 20-22 March the event has a lot to offer, from interactive workshops to hearing inspirational talks from industry experts.
This year our themes are shared ownership and action, building resilience, and shaping the future. The conference programme includes a range of sessions covering the latest in FCRM delivery, research and partnership working. We have a brilliant range of headline speakers including Sir John Armitt (National Infrastructure Commission), Baroness Brown (Chair of the Adaptation Sub-Committee), Jeff Lindner (Houston, USA) sharing learning from Hurricane Harvey and many more. I'm also delighted that once again we've got representation from the communities whose lives and livelihoods are at the heart of our work. You can see the programme at www.floodandcoast.com and also register for the event.
New this year is the 'workshop room'. This year the Advisory Committee and I were keen to include more time to hear from the delegates. So over the three days there will be workshops on the development of the new national flood and coastal erosion risk management strategy, on coastal issues, on the UK flood industry, and how we build and sustain the skills our sector needs in the future.
Another important focus is the development of those new, or less represented, in the flood and coastal erosion risk management sector.
Our "Next Generation Workshop" is specifically designed for individuals at the beginning of their careers – recent graduates, apprentices or those joining the flood community through a change of career path. The programme will raise individuals' awareness of future challenges faced in this sector and give them the opportunity to network with industry leaders. You can see more information and register specifically for this here.
We're also running a 'Women in FCRM' theme throughout the event with a panel session and access to profiles of women happy to have mentoring conversations with women – and men – who want career advice.
We'll also be celebrating the successes of the year at our annual Environment Agency Project Excellence Awards on Wednesday 21 March. We received around 120 entries from across the flood and coast community. I'm looking forward to hearing some inspiring stories from which we can all learn.
Flood and Coast 2018 has a great programme of speakers, thought-provoking workshops and inspiring exhibits. But ultimately it's all about the people. Your contributions, the connections you make and the lessons you take away are what will make the event so please do join us and help make it a success. I hope to see you there!