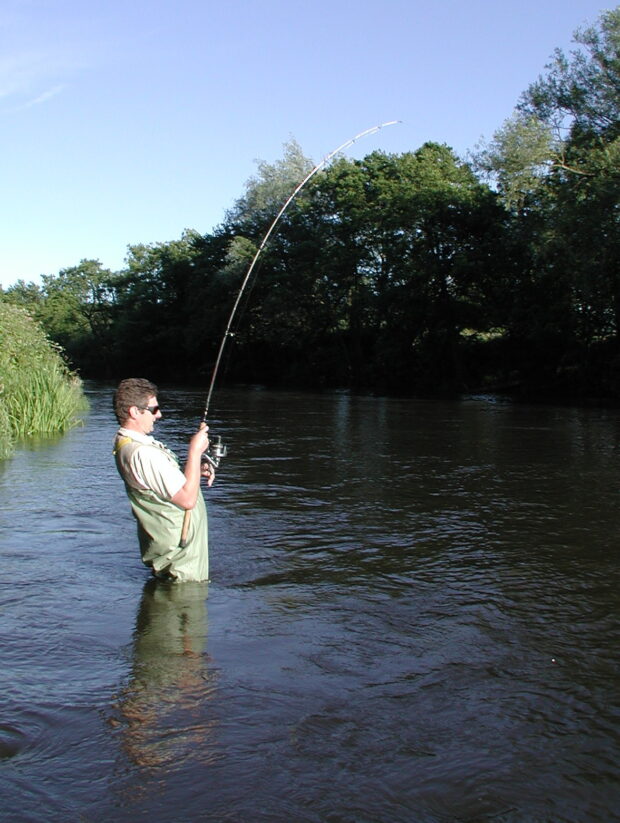 Andy Taylor of the Head Office partnership team recalls the simultaneous feelings of excitement, fear and curiosity that first got him hooked on fishing.
Experiences can shape lives – and even careers. For me it was a lucky sweep with a net in a Devon rockpool that yielded an otherworldly looking blenny. I still remember the simultaneous feelings of excitement, fear and curiosity, I was hooked! Months later after filling and exchanging several books of 'Green Shield stamps' I was the proud owner of a white, six foot glass fibre rod and reel. Practice casting from a bedroom window, hooking my Dad's new wool jacket and digging up his onion sets in search of worms were all precursors to my first outing to the local River Teme. A horrible mis-cast landed my bait in a shallow, gravelly eddy but before I could retrieve, the orange hand- painted perch float bobbed and I was thrilled to be reeling in my first river catch – an iridescent gudgeon. It's great to see that nearly half a century after my first catch the small but beautiful gudgeon graces the 2018/19 fishing licence.
I've had a long career in fisheries and I currently work in our Head Office Partnerships team. We look after the fishing licence system and our relationships with partner bodies such as the Angling Trust. The Trust work's on our behalf to encourage angling participation and provide coaching for all levels of anglers. How I would have benefitted from some help and guidance in my early fishing days!
My fisheries work has taken me from salmon in the headwaters of the River Wye to the wide, lethargic channels of East Anglia where pike shadow the abundant shoals of coarse fish. It was whilst working at the National Fisheries Laboratory in Brampton that the risks posed to our nations' fish stocks from non-native species first became evident to me. From signal crayfish spreading crayfish plague to the highly invasive topmouth gudgeon to the array of diseases and parasites that can unwittingly devastate the delicate balance of our ecosystems. But it was a Bank holiday trout fishing trip to the nearby Grafham Water many years later with my best man that yielded a most unexpected encounter with aliens! I noticed my neoprene waders were covered with what I recognised as freshwater shrimps – but not of the like or size I had seen before. The local laboratory confirmed that this was the first UK record of the Killer Shrimp (Dikerogammarus villosus). Before we knew it my mate was on Countryfile and I was being interviewed for Radio 5 Live to recount the tale and explain the devastation that species such as this can cause to our natural aquatic life. To help stop the spread of non-native species to our fisheries please follow the simple rules of Check, Clean and Dry when you depart a water after a day's fishing.
Fishing has given me so much; from chance encounters with our beautiful wildlife such as watching an entire weir writhe with migrating elvers, to a raid on my lunchbox by a curious water vole and of course much needed relaxation and solitude. It has also cemented great friendships and an annual sea fishing trip with a great mate - now in its thirtieth year - is a much anticipated diary date.
For now I'll be greasing reels, tying new leaders and turning my thoughts to the new season ahead, whether it be a new personal best barbel from the Severn, a hard fighting rainbow from Draycote or a beautiful wrasse from the Cornish shore.