Earlier this year, on #womeninscience day, we were drawing attention to the opportunities for aspiring scientists at the Environment Agency. Our aspiration is for our laboratories, like all parts of the organisation, to be as diverse as the communities we serve.
Science is essential to the Environment Agency, it is the starting point for everything we do, whether it's managing water, regulating and supporting industry or protecting wildlife. You'll see our scientists out and about all over the country, but the place we probably most associate with science - the laboratory – is largely out of view.
This is a shame because they are fascinating places. I was recently inspired to try and be more innovative on a visit to Starcross in Devon, one of our National Laboratory Service laboratories.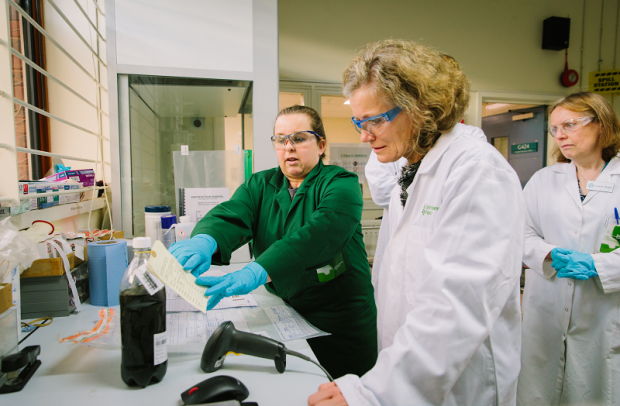 The National Laboratory Service
The National Laboratory Service is made up of 208 people based at 4 laboratories: Leeds, Nottingham, Starcross (where we share the site with the Animal and Plant Health Agency) and Caversham near Reading. Effective regulation of the water environment depends on them.
They also help environmental issues nationally and internationally through services to commercial customers, which generate money to fund environmental improvements and projects in in England.
Every year, the National Laboratory Service receives about 520,000 containers of samples. From these, they use a range of different tests, including chemical analysis and DNA techniques, to identify 1000s of manmade substances including pesticides, herbicides and detergents; microbiology, such as EColi; nutrients and polluting metals such as Mercury and Cadmium. The National Laboratory Service also maintains and installs field monitoring stations that monitor water quality in real time.
You might read about the results of their work in media coverage (or court reports) of the Environment Agency's prosecutions for water pollution, but more importantly you can enjoy the results of a well regulated environment in the excellent water quality all around the country. Read more about the state of the water environment in England in this report published last month.
Innovation
Being scientists, the team never stop looking for ways to innovate. Starcross used to have four oil fired burners which were inefficient to run and prone to breakdowns. Now, the building has a biomass boiler and two highly efficient oil boilers which significantly reduce our CO2 emissions as well as tens of thousands of pounds and tens of thousands of litres of oil. A successful initiative.
They are also helping us reduce plastic pollution, having developed and improved one of their microbiology techniques, effectively removing a step from the process and therefore reducing the amount of plastic petri dishes needed (we used to throw away thousands every year).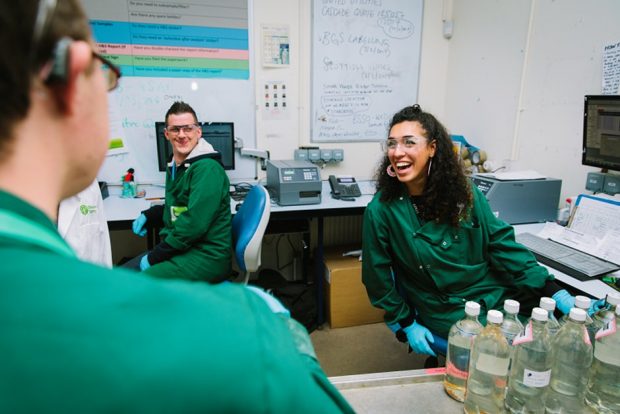 Workfit at Starcross
I was lucky to be shown around by James Trout, the Laboratory Manager. Last year, I presented James with one of the first ever Environment Agency awards.
James has developed and is running a project that has recruited 4 Laboratory Assistants through the Down's Syndrome Association's Workfit Programme. He said: "One of the main reasons we got involved in the WorkFit programme is mainly because the Environment Agency is committed to having a diverse workforce. They want the workforce to reflect the people who use the environment, so that was our core reason."
While I was there I met Tom Sewell (pictured with me below) who has become an essential member of the team, emptying water samples and stacking trollies. Because of the success of WorkFit at Starcross, the Down's Syndrome Association are taking James and Tom to attend and present this work at a United Nations conference in New York this month to encourage other employers around the world to follow this lead.
I simply can't overstate what a credit James, Tom and colleagues at Starcross are to the Environment Agency.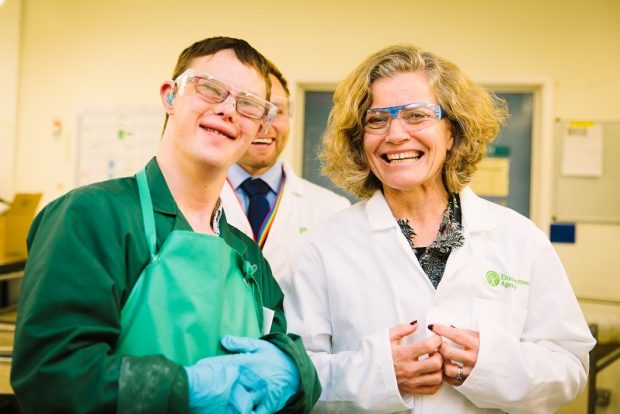 Thank you
I really enjoyed my visit to Starcross. This summer, if you are going for a dip at the beach. The chances are the bathing water quality will be excellent.
Now you know part of the reason why.
Emma Howard Boyd, Environment Agency Chair