Today's blog looks at the current water situation in England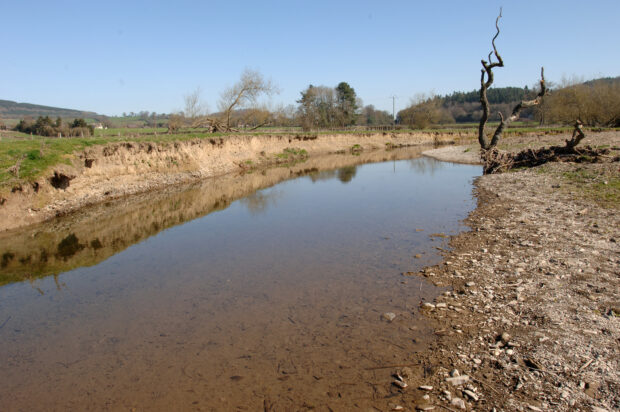 Every week in the Environment Agency operational teams and hydrologists measure water resources in England to assess how dry soils are and how much rain they can soak up, the amount of water flowing in rivers, stored below ground in aquifers and above ground in reservoirs, so we can monitor the situation, decide on any action needed and consider the outlook for the coming weeks and months.
After a wet end to the winter the water situation in the south east of England improved dramatically and water companies in the region reported an improved picture for their supplies.
Water company sources of water vary but many rely on groundwater supplies. Groundwater tends to refill or reduce over long periods of time and respond slowly to rainfall compared to river levels. So one dry month doesn't translate straight away into a change in the water situation. Although there is lots of variety in types of groundwater, the speed of water flow in groundwaters depends on a range of factors including the geology of the catchment.
As we move into the heat of summer the overall water resources situation across England is looking generally healthy. Groundwater levels throughout England are now starting to naturally decline as expected for the time of year but remain within levels that we would expect for the start of summer.
While rivers, lakes and reservoirs are also broadly where they should be for this time of year, during dry spells it's not unusual for some rivers and lakes in faster responding catchments to drop quickly but they tend to recover quickly when the rain returns.
Although the current situation is within normal ranges for the time of year we can still all help to save water over the summer months when there is generally higher water usage. If we all save a little bit of water now this may help sustain plentiful water for people and the environment to enjoy. You can do this by looking at the way you use water in your home and at work and making sure you are being as efficient as possible. Your water company may also send you advice over the summer months.
Find out more about what you can do from: Waterwise and Water UK.
How is water managed?
We work with water companies and other organisations to reduce the impacts from dry weather on the environment and abstractors. The action we take includes incident response, regulating abstraction, advising businesses and farmers on water usage and monitoring for environmental impacts.
At this time of year our officers will be responding on the ground to manage any potential impacts that arise over the summer such as limiting the amount of water that can be taken from a river or rescuing fish struggling to get upstream. We're very well prepared with more of our staff trained to support us during an incident than ever before, and our monitoring and technology has improved significantly. If you see fish gulping for air or something that does not look normal this could be because of reduced river flows or pollution so do please call our incident hotline on 0800 80 70 60.
The Environment Agency ensures that water companies have made robust plans for managing water supplies without over abstracting from rivers and damaging the environment. Water companies plan to ensure their water supplies are resilient in dry weather. Each company publishes a drought plan which outlines the actions it will take and how, if necessary, it will step up these actions if the dry weather situation worsens. If there are short term issues getting water into supply to meet high demands we expect water companies to resolve them swiftly
Where to find more information
 We publish a snapshot of the latest river flow and rainfall situation each week and provide a full assessment at the end of each month.