Una McMahon is a flood risk officer at the Environment Agency. She has worked for the Environment Agency for two years and holds a masters in town and country planning. She's part of a team at the Environment Agency working on the Leeds Flood Alleviation Scheme.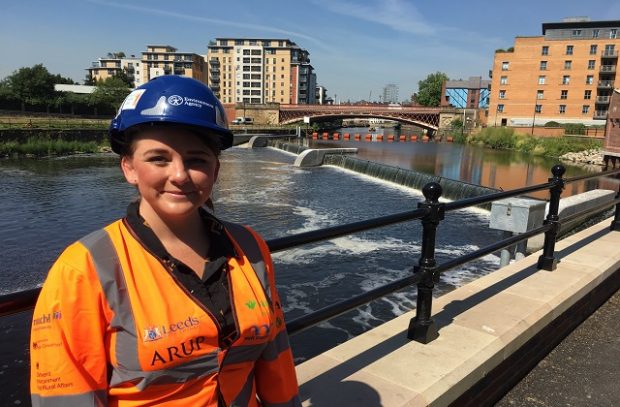 Engineering the future
From spaceships and ice-skates, to the bubbles in chocolate bars and life-saving cancer treatments, engineering touches every part of our lives. But unfortunately, not enough young people - especially young girls - think engineering is a world for them. As a result, the industry is struggling to recruit future talent. What's more, young people are missing out on the chance to make a positive difference to not only their futures but also that of the environment.
So this year is the Year of Engineering – a government campaign which celebrates the world and wonder of engineering. The Environment Agency is supporting the campaign because engineers are a core part of our organisation.
I chose a career in engineering because I find it fascinating – in my opinion it's a good mix of theoretical and practical work. Through my work I can help address and solve problems head on - plus, make a difference to people's lives and world around us.
I'm lucky because I get to work with like-minded people who share a passion for shaping the world we live in and I find this very motivating.
Making a difference to everyday life
I am one of 400 engineers that work in the Environment Agency, which helps to protect and improve the environment. The Environment Agency is the largest environmental regulator in Europe and the national flood risk agency for England so there are lots of great opportunities.
A large part of the Environment Agency's work is managing flood risk – this means building flood schemes, reducing flood risk up and down the country and preventing people's homes and businesses from flooding – so stuff that really makes a difference to people's their lives. And of course, engineering is key.
A career highlight
My first engineering job was on Phase 1 of the award-winning Leeds Flood Alleviation scheme. The scheme cost £50 million and is one of the largest flood defences in the country.
Led by Leeds City Council in partnership with the Environment Agency, the scheme will provide more than 3,000 homes, 500 businesses and 300 acres of development land with increased protection against flooding from the River Aire and Hol Beck. The groundbreaking scheme used state-of-the-art flood defence engineering techniques known as moveable weir technology – a first for flood risk reduction in the UK.
It was an honour to work on a major project like this; the successful opening of Phase 1 of the scheme in October last year was one of the biggest highlights of my career so far.
I'm now working on phase 2 of the scheme which includes hard engineering measures such as flood storage areas and walls as well as natural flood management (NFM) plans. The NFM work will look at planting up to 2 million trees across the upper catchment above Leeds, as well as the creation of wetlands, leaky barriers in watercourses and re-meandering a section of the river, all to help reduce flood risk downstream.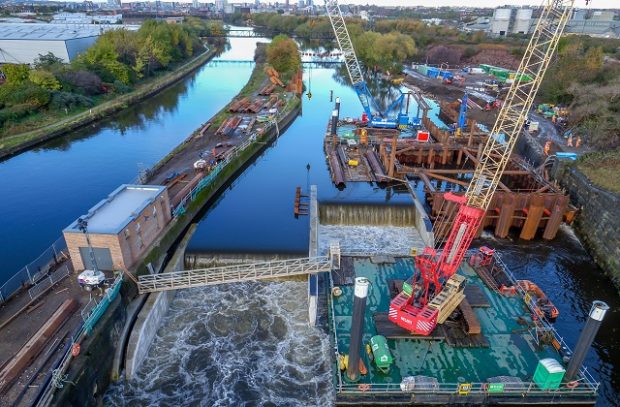 Tangible impacts
I find engineering to be a very fulfilling career path because I can see the tangible impact being made on people's lives and the environment as a direct result of my work.
For example, due to the increased level of protection and through the Leeds Flood Alleviation Scheme's development and construction, 22,000 jobs will be safeguarded over the next 10 years and 150 jobs and apprenticeships have been created.
Environmental enhancements have been integral within the scheme design, with fish and eel passes installed at both weirs.
Clever use of state-of -the art moveable weirs have been essential to this process. Weirs have previously been barriers, preventing species such as salmon migrating from the sea to the spawning grounds further up the river.
Salmon have recently been spotted in the River Aire for the first time in 200 years, and now that fish passes have been installed on Knostrop and Crown Point weirs, as well as others on the River Aire, it is hoped that chances of a spawning population of salmon in the river in future will be increased.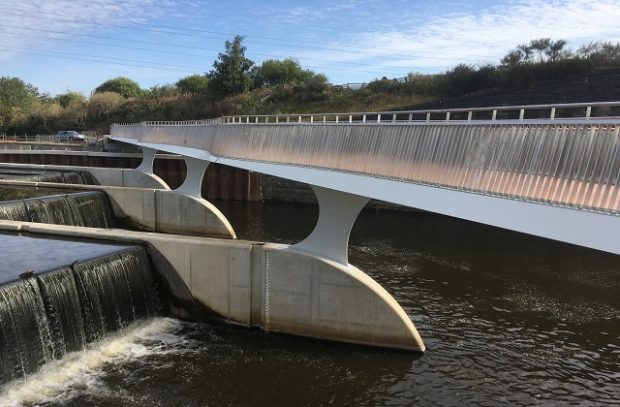 A diverse career option
Engineering is a very varied industry so can appeal to a lot of people with diverse skills and backgrounds. Women pursuing a career in engineering and science, technology, engineering, and mathematics subjects (often referred to as 'STEM') helps to create a balance in the industry ensuring there is no skills shortage.
To anybody considering a career path in engineering - especially young people, women and girls - my best piece of advice would be to do it!
Find out more here:
Women in Engineering Society - https://www.wes.org.uk/