I've been working in the nuclear world for a long time. Firstly 12 years in industry as a physicist developing and implementing large radiometric instruments for safety and environment protection. And, over the last 26 years, as a regulator making sure that industry properly protects people and the environment. Since 2005 I've been focusing on what were initially government policy and plans for new nuclear power stations but is now being proposed and constructed by operators. It's my job to work with nuclear companies to ensure that their proposals for new nuclear reactors and power stations would meet the high standards of environmental protection that we expect in the UK.
Our teams of nuclear regulators regularly visit nuclear sites across England to ensure that their operators are delivering those high standards. They look at how sites manage and dispose of radioactive and other waste, checking monitoring of discharges to air and water and that operators are complying with the strict limits in our permits. It's also important that we spend time with our stakeholders and 'nuclear' communities, talking about our work and listening to their views when we're making decisions about things that impact on their environment. And that's what we did when we visited Essex.
Did you know there is a nuclear power station in Essex? Bradwell 'A' generated electricity from 1962 to 2002 and is being decommissioned. I was site inspector there in the late 90s when it was still generating electricity. Now China General Nuclear (CGN) and EDF Energy are proposing to develop a new nuclear power station at the site next door to Bradwell A. Earlier this year I took my team on a visit to Essex to learn more about the site, the local environment and the communities on both sides of the Blackwater estuary.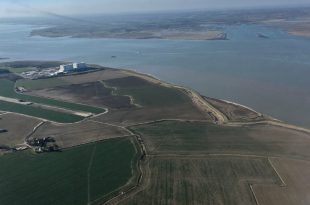 Our first stop was the proposed site for Bradwell 'B' to see how investigations into the new site's geology are proceeding. The underlying geology of a site is an important consideration in deciding whether a site is suitable for a nuclear power station. Bradwell B's site investigation team are drilling boreholes and conducting tests to help them understand the local geology. Our team learned more about this work and viewed flood defences as we went round the vast site.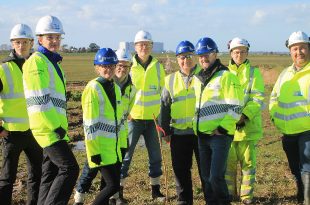 After a brief lunch stop in Maldon we drove to the other side of the Blackwater Estuary and headed for Mersea Island, opposite the old power station across the river. The Blackwater Estuary is a really quite "special" place protected by environmental directives and regulations. It's home to wetland birds and native oysters.
Have a look at the short video we filmed on the beach at Mersea Island.
The following morning we met with Blackwater Against New Nuclear Group, a local group who oppose plans for Bradwell B. We discussed a range of topics and listened to their views to help us understand their concerns. There are other local and national stakeholders with an interest in proposals for this site and new build and I'm sure we'll be meeting more in the coming years.
Getting involved
If you want to learn more about the new nuclear power station proposed for the Bradwell site please look at the website set up by the company. If you make a comment or ask a question, I'll see both your comment and company's response, and we can use these, if relevant, to help inform our assessments.
Contact us to be added to our email list for updates - Go to GDA@environment-agency.gov.uk