Every year millions of us visit beaches and lakes across England. Over 400 of these are designated as bathing waters and it's the Environment Agency's job to test the water at each to see how clean it is and provide the public with information so people can decide where to swim.
The process of testing the water quality starts with our sampling teams who take up to 20 samples at each of the 422 designated bathing waters throughout the bathing season. Once the samples have been taken, they're sent to our laboratory in Exeter.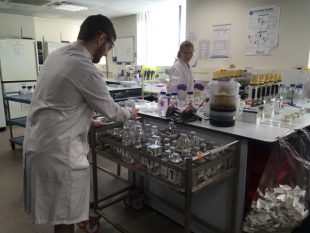 Testing the water
That's where I step in. I'm part of the Microbiology and Molecular team based at the lab.  It's our job to test the water samples for two types of bacteria that can indicate pollution in the water.
We receive the water samples within 24 hours of them being taken as the bacteria can change after this time. We can receive 1,000 bottles of water every day. We can't see what, or how much bacteria is in the water, so in very simple terms, it's our job to make it show up.
We do this by using filters to trap any bacteria in the water and then add them to a jelly-like substance called agar. Agar basically acts as a food for the bacteria. To help the bacteria grow, we create real-life growing conditions by incubating the agar samples at different temperatures for different lengths of time.
The test results then wing their way over to our reporting team, whose job it is to upload them onto our bathing water quality website so the public can see how clean the water is - www.gov.uk/quality-of-local-bathing-water.
Regular testing of bathing waters between May and the end of September, means we can let the public know how the water quality is doing. The results are also used to classify each of the designated bathing waters. There are four classifications; Excellent, Good, Sufficient and Poor and are these are based on how much bacteria we find in water sampled over a four-year period. The great news is that 98.3% of bathing waters passed the strict standards in 2017.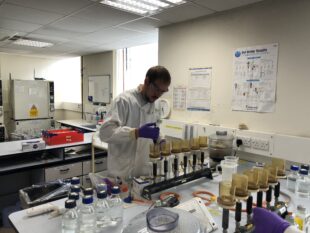 Seaside forensics
Keeping the public informed about how clean bathing waters are is an important part of our role. So too is maintaining and improving the quality of water. Knowing how many bacteria are in the water tells us where water quality can be improved. However, to do this, we need to know where the bacteria are coming from.
We run DNA tests on water which can tell us whether the bacteria originate from humans, animals or birds.  Having this information helps us to put action plans in place and work with local partners to help drive improvements to local bathing waters.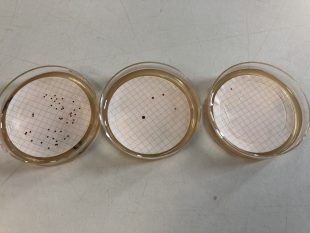 Bathing water quality is sensitive to sources of pollution washed into the water during wet weather and can cause a temporary reduction in water quality.  We make daily forecasts of bathing water quality at over 150 sites which are available online and temporary signs are put up at beaches advising against swimming when a reduction is expected.
We all know there are significant health benefits to being outside and active, especially at the beach. We want everyone to enjoy the fantastic bathing waters. To help people decide where to bathe, our website has the latest info www.gov.uk/quality-of-local-bathing-water. Check for signs at the beach too and for advice on reducing the risk of becoming poorly at bathing waters, search Public Health England at www.gov.uk.
#Binit4beaches
Over the August Bank Holiday, we'll be reminding everyone of the things we can do while at the beach to keep the sands and seas clean:
Reduce the amount of rubbish you take to the beach by switching from single-use plastics such as bottles of pop, sandwich packs, plastic cutlery etc;
Always remove your rubbish from the beach;
If the first bin you come across is full, look for another and make sure your rubbish is placed securely in it. Even better, take it home and recycle it! Litter left beside the bin can easily be blown into the sea.
Join the conversation and follow #binit4beaches.