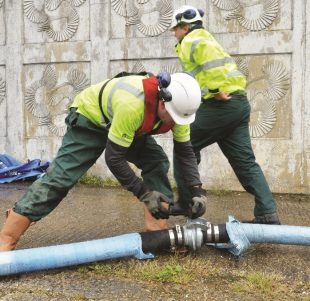 I lead the Durham and Tees Valley Field Operations team which is responsible for the delivery of river and flood defence maintenance as well as incident response activities in the area. Recently, I've been working on a project which will make our emergency response even quicker and more effective this winter.
As a Category 1 emergency responder the Environment Agency has a number of responsibilities when it comes to floods. This includes designing and building flood defences which will help protect homes and businesses into the future as well as using our resources and calling on our incident response staff to help communities during a flooding emergency.
As part of our arsenal of equipment to bring flood relief to affected communities, the Environment Agency has a national fleet of powerful High Volume Pumps (HVPs). These pumps are held at local depots across the country and are ready for use at any moment, helping to pump up to 7,000 litres of water per minute away from homes and businesses that have been affected by flooding.
In recent years the EA's operational teams have been called out to incidents in a number of areas including Corbridge in Northumberland during the winter of 2015/16 when river levels reached an all-time high and spilled over the defences that were in place, flooding properties and causing significant disruption to local residents. My team was called to the scene where we set up several of our HVPs to quickly pump large quantities of water away from flooded homes and businesses and to speed the recovery process. We also worked closely with the local Fire & Rescue Service to help local residents both during and after the flooding.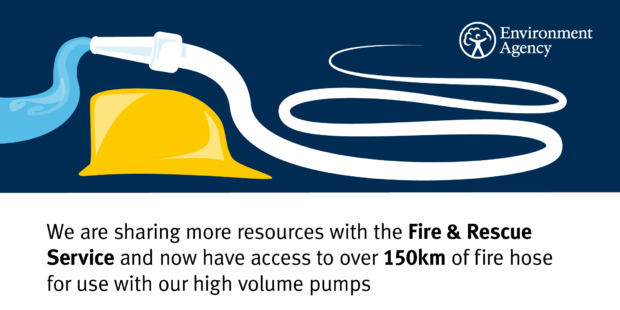 Working alongside the Fire & Rescue Service saw great collaboration between our two services, building relationships and improving our capabilities so that we would be able to better help those affected by flooding. Over the past few years, my team has continued to work with the Durham Fire and Rescue Service to develop new equipment that enables our High Volume Pumps to be used with Fire & Rescue Service hose.
Following the success of the new kit in the North East of England, we worked with the Fire & Rescue Service to roll out the new equipment nationally, meaning that every part of the country would be able to benefit from greater flood resilience. The new equipment has now been fitted to all 47 pumps that are held by the Fire & Rescue Service in England, each of which carries 3 kilometres of hosing, meaning that we now have access to 141km of additional hosing and the ability to deploy it more quickly to affected communities.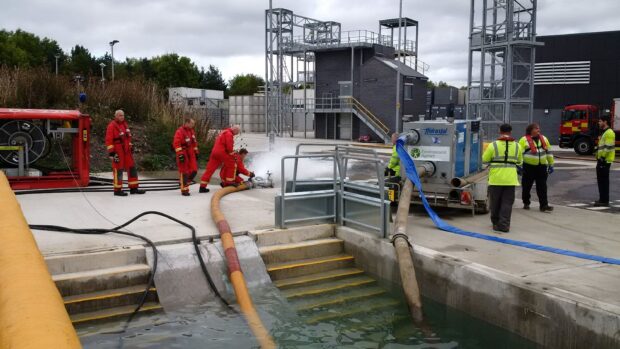 The new collaboration was put to the test during the period of prolonged dry weather over the summer where EA and Fire & Rescue Service equipment was used in tandem to help tackle wildfires. It's good to know that we are now better equipped than ever to work together to tackle any adverse conditions that we may face this winter.