Last week's meeting of the National Drought Group (NDG) cautiously welcomed the partial recovery of water resources in many parts of England but acknowledged the ongoing dry weather may put pressure on farmers and the environment, especially in the East during the spring.
Wet weather in November and December 2018 brought a welcome end to six consecutive months of below average rainfall in England. Despite this improvement and a slightly improved water resources situation compared to this time last year, the picture in England is not yet back to normal.
Through the NDG, members will need to work together to act early and mitigate these risks, the potential challenges from a cold snap and the changes from EU Exit. We continue to encourage sharing and trading of water as a number of abstractors did in 2018 as part of our flexible abstraction approach. Our current Position Statement is available on the NFU website. Early next month we'll be sharing our updated position on flexible abstraction with the farming sector, including extending the refill season for winter storage reservoirs. This will incorporate lessons learned from 2018 so we can be as "fleet of foot as possible" in 2019.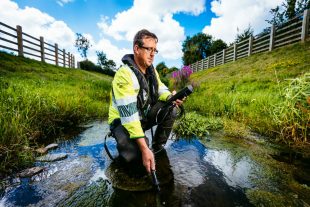 The Environment Agency is continuing to work with the NFU and others to help farmers to prepare for a potentially difficult 2019 irrigation season, by providing advice at abstraction clinics. The main focus has been in the East of England as the water resources position is not showing significant recovery in January (following last year's hot dry summer), with the current dry weather forecast to continue further into the winter.
We are encouraging farmers to carry out health checks of their abstraction licences now, to make sure they are as fit as possible to meet their current and future water needs.
We held successful abstraction clinics in December for Cambridgeshire & Bedfordshire organised with the NFU and we are planning more events in the Midlands and the East of England before the spring.
The clinics give farmers the opportunity to talk directly to Environment Agency specialists about their abstraction licences and receive advice on how to best manage the impact of changing conditions.
Some Environment Agency areas will also be going out visiting farmers on site to provide abstraction advice.
Also in February we'll meet with our agricultural water resources engagement forum the Water for Food Group to discuss water management for agriculture.
On the 27th and 28th of February the Environment Agency's Deputy Director, Water Resources, Paul Hickey - is presenting on future water resources at the United Kingdom Irrigation Association's (UKIA) annual conference. We will be sharing our initial Irrigation Prospects report as well as providing practical abstraction advice to attendees. We will update these Irrigation Prospects in the spring just ahead of the main irrigation season.
The UKIA has just published the Irrigators' Handbook which contains useful information, including a water wise article by Paul Hickey. The Environment Agency previously produced irrigation guides with the UK Irrigation Association (UKIA) and other organisations.
We will continue to work with water companies, industry and other organisations as well as farmers to prepare for the year ahead and urge everyone to use water wisely in 2019.
Advice will also be sent to farmers, updated online and available from the Environment Agency customer contact centre at mailto:enquiries@environment-agency.gov.uk or on 03708 506 506.