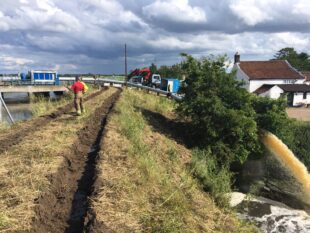 Environment Agency staff monitoring the ultra-high volume pump
In Lincolnshire, Environment Agency staff are working 24/7 alongside the emergency services to protect people and property after a river embankment breached at Wainfleet.
In an effort to reduce flood waters, Environment Agency field teams are operating an ultra-high volume pump, capable of pump 5 Olympic-sized swimming pools' worth of water every hour away from the town. This is now reducing water levels and the repaired breach continues to hold.
The river banks were put under extraordinary pressure because of the extreme amount of rainfall that occurred – more than twice the monthly average in only a couple of days – and subsequently breached.
There has been some reporting that breach has been caused by badger damage or could have been avoided by dredging. This is categorically not the case.
While badgers have been present along the banks in recent years, the part of the embankment that has breached was not affected by badger burrowing or a badger sett. Badgers, as a protected species, were successfully relocated from the flood bank to an artificial sett in August 2018.
Dredging is an important part of our maintenance programme. We consider each location carefully and do it where we know it will make a difference. Environment Agency hydrologists run routine modelling of rivers, including this part of the River Steeping.
Modelling has found that dredging would have made an insignificant difference to this event due to the sheer quantity of rainfall in a short space of time. River levels in this area are also managed through a system of sluices, the biggest of which the Burgh Sluice was refurbished very recently.
The Environment Agency also spends 80k a year on planned maintenance on the River Steeping.
Flooding has a devastating impact on people's lives and our thoughts are with those affected. There will continue to be an increased flood risk in the Wainfleet area until Saturday, with a risk of heavy thundery showers today (Tuesday), and more prolonged showers tomorrow (Wednesday). Our immediate priority is to repair the bank and pump water away so we can get people back into  their homes.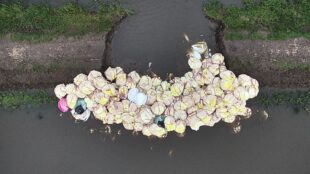 Ballast bags blocking the breach in a river bank