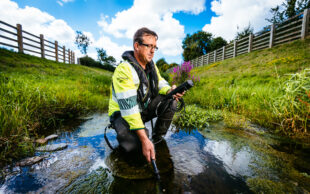 As a nation, we have lost touch with water - where it comes from, why it matters and how we all need to take action to protect this most precious resource.
Across England we spend about £5 billion a year to protect the water environment.
In return for this investment, the water environment provides an estimated £39.5 billion in benefits every year. That's about £8 value back for every £1 we invest.
But we are spending £5 billion a year to stand still. And this at a time when water supplies in England are under increased threat due to climate change and population growth.
As a regulator, the Environment Agency is doing everything it can within the resources and legal powers that it has.
We've achieved some impressive results. Pollution from the water industry has reduced by 70% since 1995.  Otters are now found in every English county and salmon are returning to rivers such as the Don in Yorkshire. 92.4% of our bathing waters were at Good or Excellent status in 2018.  In 1995 over half would have failed.
By influencing the water companies we have seen almost 6,000 km of waterways improved since 2015 at a cost of £3 billion and we have secured an additional £4.6 billion to improve a further 6,000 km of our waters over the next 5 years.
We take tough action when we need to. Our evidence, gathered through hundreds of thousands of samples taken from rivers and seas and from investigations where pollution has taken place, has helped us prosecute water companies 40 times over the past four years with fines totalling £33 million.
We firmly hold those we regulate to account. In July we published our annual Environmental Performance Report (EPA) about the performance of the water companies. In her foreword, our chair Emma Howard Boyd states that: "there is no getting away from the fact that performance in 2018 was simply unacceptable." She goes on to say that "rather than improving, the performance of most companies has deteriorated, reversing the trend of gradual improvement since we introduced the EPA in 2011.  I am sad to say we are not seeing dramatic improvements in 2019. As a result we will toughen our regulatory approach."
Despite all this, only 16% of England's groundwater, rivers, lakes, estuaries and seas are close to their natural state. At the current rate of progress it will take over 200 years to reach the Government's 25 Year Environment Plan target of 75% of waters to be close to their natural state.
We know where the problems are. Pollution from the water sector, transport, abandoned mines, non-native invasive species and physical modifications such as weirs have all significantly reduced the quality of our waters.
Individuals also have a part to play. Many people are unaware that pouring waste cleaning liquids down outside drains, tipping fats, oils and grease down the sink or flushing wet wipes down the loo all reduce the quality of water in the places that probably mean the most to them.
We have massive ambitions but like any publically funded organisation we are constrained by the funding we receive and the legislative framework we operate in.
In a letter to The Times , our Chair has written that Government funding has been cut by 57% since 2010, from £120m to £52m. This has undoubtedly affected our ability to protect and enhance our waters.
We have reviewed our charges to make them more open and transparent and have increased charges where appropriate to reflect the time it takes to regulate. This has helped support our regulatory work but the Government also needs to step up to the plate. The forthcoming Spending Review is an opportunity for the government to show its commitment to the environment and to protecting our rivers, streams and lakes.
Despite the constraints we operate in we are keen to do much more. We have recently joined forces with over 40 NGOs, regulators and water companies to launch a new campaign, Love Water.
Love Water aims to drive behaviour change across the country to help us preserve and conserve our water supplies including some of our most beautiful places in the country – our rivers and seas.
Our Chair and Chief Executive are also leading an initiative to bring people together to openly discuss the task we collectively face and look for solutions, steps that we can all take to deliver the improvements we want to see.
There is some brilliant practice out there. Farmers who make every effort to stop fertilisers and slurry entering their local rivers, businesses who take their environmental responsibilities incredibly seriously, individuals who would never dream of washing their frying pan up without wiping it first. We need this to become the norm.
Over the next couple of months we will be bringing key players together to discuss the issue, agree how we can make improvements and put ideas into action. We will also be consulting on the next stage of our River Basin Management Plans to ensure we find solutions jointly with people and organisations across the country.
The Environment Agency is leading the way in moving water quality up the agenda. This will be one of the challenges that defines our generation. We are confident that by working together to tackle the problem head on we will ensure that we have clean and plentiful water for generations to come.