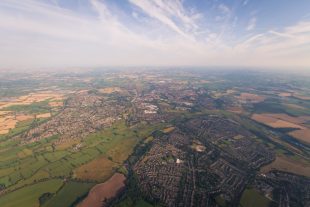 The biggest single threat to everything we all care about, and the biggest threat to everything the Environment Agency exists to do – protect people from flood and drought, enhance the environment, support sustainable growth – is the climate emergency.
One of our key tools as a nation to help tackle the climate crisis is regulation. And regulation isn't red tape – the right kind of regulation that is simple, risk based, proportionate and aims for partnership – helps enhance our environment, protects communities and unlocks growth.
Regulation is not a nice to do. I have seen first-hand the devastation that is caused when regulation isn't in place. I visited Bhopal, the site of the worst industrial disaster the world has seen. People there are still suffering the consequences. Not regulating, and not regulating well, endangers people's lives, our environment and livelihoods, for future generations as well.
The greatest threat now is the climate emergency and the Environment Agency is working hard with those it regulates to tackle this. In the last decade, emissions from industry have fallen, less waste is landfilled, over 70% of the waste produced by the sites we regulate is recycled, and high levels of bathing water quality are being maintained.
But we know there is still more to do. We have to make greater strides in tackling environmental crime, improving the quality of our rivers and reducing serious pollution incidents further. The Environment Agency will continue to be tough on those who offend. We've recently seen longer custodial sentences and bigger fines, reminding offenders that environmental crime doesn't pay. Good regulation is about more than just prosecution. Many improvements have been achieved in business performance by working with those we regulate. So we all have a part to play in helping us reach these goals.
As the country continues to prepare to leave the EU, we have an opportunity to do regulation even better. So EU exit doesn't mean taking down regulations, or relaxing regulation. The Environment Agency stands ready to clamp down on offenders as robustly as before.
The climate emergency provides us with opportunity as well. The future of regulation needs to focus on two things. One: continue to focus and be tough on what drives the climate emergency. Being tough on emissions and reducing carbon is at the heart of this. The Environment Agency is committed to this; we have just announced our goal to achieve net zero by 2030. Two: continue to support industry and businesses that are committed to green technology.
If we seize this opportunity now and make the changes we need, we can make a better world – literally. We shouldn't be aiming for a planet which is in a marginally less bad state than it would be if we didn't act. We should be aiming for a planet which is better than it was and better than it is now. A planet where the climate stabilises, biodiversity increases and sustainable growth goes forward, lifting billions of people out of poverty. A planet which is blue and green, not grey and brown.
Sir James Bevan, Environment Agency Chief Executive
For more information on the report please visit Gov.UK: https://www.gov.uk/government/publications/regulating-for-people-the-environment-and-growth