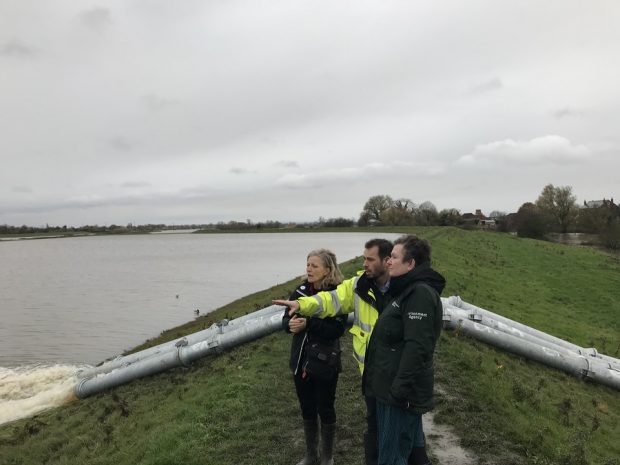 This week I've been meeting people affected by flooding. On Monday I was in Retford and Worksop and yesterday I visited Fishlake.
Flooding is a devastating experience, we need to do everything we can to help people going through it. At St Cuthbert's Church in Fishlake I was hugely moved by the community spirit and generosity on display as emergency services and residents worked together in amongst pews full of donations of food, clothing and even electric heaters.
This has been an exceptionally wet autumn, the ground is saturated, rivers are full and the risk of more wet weather remains. It's essential that people sign up for flood warnings. As our Executive Director of Flood and Coastal Risk Management John Curtin said to the media earlier: "We don't want people to think it happened to Fishlake, it won't happen to me. Today it is Evesham, tomorrow where next?"
This autumn some rivers have reached even higher levels than the major floods in 2007, including the Don, and over 21,000 properties have been protected by flood schemes in England, including nearly 7,000 properties in Yorkshire, but I know that these numbers are no comfort to anyone whose home has been ruined.
Right now, our priorities are protecting people from further flooding and helping communities recover. Today, Toby Willison, Executive Director of Operations, was in Evesham to meet teams responding to the flooding there.
I want to thank the Environment Agency teams, and all our partners who have been working 24/7 for some weeks now to support communities and pump floodwaters away. Their dedication and expertise will be essential to the country's response over the next few months. It is a sobering thought that we are not yet in winter.
Finally, a lot of media coverage of the current situation has looked at it in the context of climate change. Unfortunately, we are seeing increasingly wet winters. In addition to that, the Intergovernmental Panel on Climate Change released a report in September saying that once-a-century sea level events will be annual events by 2050. All of this raises significant questions about how we respond to flooding now and what needs to change in the future. These are questions we have begun to answer with our Flood and Coastal Erosion Risk Management Strategy, which looks at how to approach England's flood risk over the next century.
I've spoken to people this week who are angry and upset by what has happened to their homes and communities. It's impossible not to be affected by that. As my colleagues work around the clock to help people today, we must also consider what this means for our resilience in the future.
You can sign up for flood warnings here.
Emma Howard Boyd, Environment Agency Chair