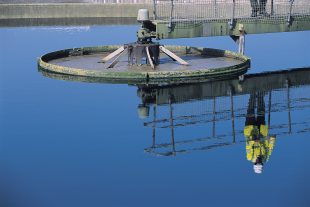 Combined Sewer Overflows Explained
Recently we have seen prominent coverage in the Guardian which claims that untreated human waste was released into streams and rivers for more than 1.5 million hours in 2019.
There are a number of points that are important to put this article into context.
England has a combined sewage system made up of hundreds of thousands of kilometres of sewers, built by the Victorians, in many urban centres.  This means that clean rainwater and waste water from toilets, bathrooms and kitchens are conveyed in the same pipe to a sewage treatment works.
During heavy rainfall the capacity of these pipes can be exceeded, which means possible inundation of sewage works and the potential to back up and flood peoples' homes, roads and open spaces, unless it is allowed to spill elsewhere. Combined sewer overflows (CSOs) were developed as overflow valves to reduce the risk of sewage backing up during heavy rainfall.
Overflows of diluted sewage during heavy rainfall are not a sign that the system is faulty. Combined sewer overflows (CSOs) are a necessary part of the existing sewerage system, preventing sewage from flooding homes and businesses.
The role of the Environment Agency  
The Environment Agency works closely with water companies to ensure that they are closely monitoring and reporting back on their discharge activity. This data is helping us to understand where the system is not operating as it should, so that water companies can target investigations and investment.
We have already identified over 700 overflows to be investigated and 40 overflows to be improved within the period 2020-2025.
There is still much to do to improve the quality of our water. When water companies do damage the environment, whether it is through polluting our waters or breaching permit conditions, we take enforcement action against them including civil sanctions. We successfully brought forward four water company prosecutions in 2019, resulting in £1,297,000 in fines.
We are also working closely with Defra and Ofwat to drive further improvements. As a result in 2019, Ofwat introduced a package of allowances and incentives for the next five years, setting water companies the challenge of reducing pollution incidents by a third, also requiring them to invest £4.8 billion in environmental improvements.  Since privatisation, water and sewerage companies have improved over 7,000 overflows to secure water quality and amenity benefits Meanwhile we all have a part to play in improving how we use our sewer system.
CSOs can discharge through misuse of the system. Wet wipes make up more than 90 per cent of the material causing sewers to block. We work with partners to raise awareness of this issue and the need to reduce the pressure put on the sewerage system through the #BinIt4Beaches campaigns.
By keeping our sewers free of wet wipes and other sanitary products as well as ensuring fats, oils and grease are not poured down the sink, we can help reduce the need for CSOs.
Open water swimming
We also recognise the growing popularity in open water swimming, with many people enjoying wild swimming in rivers.  Public Health England and the Environment Agency offer advice as part of the existing 'swim healthy' guidance which is available to read before making any decision on swimming.' https://www.gov.uk/government/publications/swim-healthy-leaflet/swim-healthy
However, most bathing occurs in coastal waters, for which there are over 400 designated bathing waters in England. There aren't yet any rivers designated for bathing in England.
Rivers and other open water locations that are not designated as bathing waters are managed for the purpose of protecting fish and wildlife, so health risks from swimming at these locations may be higher than at designated bathing waters.
Managing rivers for bathing presents new challenges in controlling sources of pollution and minimising health risks to create waters suitable for swimming.
For information on over 400 designated bathing waters in England visit www.gov.uk/quality-of-local-bathing-water.