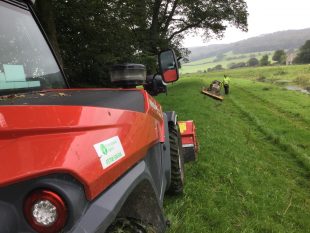 by Adam Bayliss
At this time of year you may see Environment Agency workers out and about cutting grass on embankments. When you see us you might wonder, is it really necessary? Especially when amongst the grass there may be pollinator friendly wildflowers and habitat for nesting birds. As the manager of a team that looks after flood defences in Yorkshire, I'm going to explain why we do this, the detailed planning behind it and how we're always working to create a better place in everything we do.
Our flood defences come in a range of shapes and sizes. Some are large moving barriers (like the Thames Barrier), others are made of glass, steal or concrete and many are natural looking earth embankments. Often found in scenic locations, these embankments are great places to go for walk, spend time with friends and family and be close to nature.
What many people don't realise is that the embankments are manmade – usually from clay, covered with soil and then grass – they help protect our villages, towns and cities from flooding during storm surges and times of high rainfall.
Just like any piece of engineering, they need regular maintenance to ensure they work when they need to. Some of our most important defences are our flood storage reservoirs, each one holds more than 25,000 tonnes of water. Maintenance of these reservoirs has to be done to a high standard because the consequence of the embankment failing could potentially put people's lives at risk and result in flooded communities. Grass has to be kept short on the banks to ensure it forms dense grass sods. These create a consistent root network, making the banks more resilient to erosion from waves, over topping and heavy rain.
Dense sods are just one part of it. Keeping the grass short means we can monitor it for defects - often an early warning sign of something more significant. Shorter vegetation also discourages vermin from digging into the bank. Embankments with badger or rabbit warrens in them leak like a sieve, meaning they can collapse when water runs through them.
I know that for some people the sight of swathes of grass being cut can be distressing, especially when you take into account pollinators and nesting birds, so I wanted to assure you that it's not an activity we do lightly. All our engineering and maintenance is guided by independent research and best practice borne out of a number of independent reports over the years. We have team of biodiversity specialists whose role it is to advise throughout the year on the best time to carry out our maintenance work.
When carrying out the work we use specialist industrial mowers which are quieter than domestic lawn mowers. Before mowing the machine operator will walk over the site to try and identify any nesting birds or other habitat or hazards. Our staff are diligent and will stop work if they see something of interest to get further advice.
It's not all cut cut cut though. Across the country we work closely with organisations to create biodiversity. Here are just a few examples of the work that's taking place in Yorkshire.
Working with Sheffield and Rotherham Wildlife Trust we have funded the planting of wildflowers and 50 trees on land behind a reservoir.
We've worked with the RSPB at Houghton reservoir on the River Dearne to plant 4ha of trees and 600m of hedgerows, the RSPB then planted a further 1ha of wet woodland to create a valuable wildlife resource.
With the Yorkshire Farming and Wildlife Partnership we've funded 2.hectares of trees and 370m of hedgerow.
This year we've planted over 16 hectares of trees and 1.7km of hedgerows in Yorkshire alone, and have done similar in 2019, 2018.
And as part of Defra's national pollinator strategy to establish pollinator-friendly vegetation management, we have identified land that we own which we can seed with that will hopefully flourish into wildflower meadows.
Further afield, in south west London, work taking place on the River Hogsmill has seen trees and large branches - which could have caused a flood risk downstream - cut back and refitted into the river channel as deflectors. These deflectors slow the river and create a more meandering habitat perfect for invertebrates and other ecology. In Essex and Suffolk, on parts of the sea walls we delay cutting until the end of September to protect the active nests of rare bumblebees
The list of initiatives my team are working on to increase biodiversity is almost endless and this is being replicated across the country.
I hope this gives you an insight into why we maintain our flood embankments in the way we do and sheds some light on lots of the work you might not see.
If you want to find out more please follow us on twitter where you'll find links to all the Environment Agency twitter account near you.