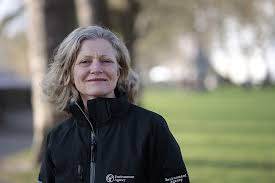 This year, the terrible impacts of the coronavirus reminded the world that for all humanity's achievements, nature can change everything at a moment's notice. As we rebuild, the importance of being well prepared for the future threats is a lesson we must learn all over again. The Prime Minister has rightly said we need to "build back better, build back greener, build back faster".
The pandemic altered many things but one positive side-effect of lockdowns around the world was the return of natural beauty to many places overtaken by urban sprawl. But nature also continues in less desirable ways.
During England's lockdown we experienced the sunniest spring on record, and the National Drought Group convened public and private sector organisations to agree how to manage the impact of dry weather and increased water demand. That seems extraordinary given that in February over three times the expected rainfall fell, the Met Office had to create a whole new scale for it, and that was on top of record breaking rain in Yorkshire in the autumn. Also, in May, we had to close the Thames Barrier for the first time in that month ever.
By 2050, summer temperatures are set to be up to 7.4˚C hotter, we anticipate 59% more rainfall, and once-a-century sea level events are expected to be annual events. Accelerating climate change will rapidly bounce us between these extremes in the coming decades, and water (whether too much, too little, or its quality) is only going to become more of a concern.
More than 5.2 million properties in England are already at risk of flooding, and climate change will lead to even more people being affected. When businesses flood it harms the economy and effects jobs. Having your home flood is often a deeply traumatic experience. Every year, flooding kills.
The Government has today announced a record £5.2bn long-term investment and also an immediate £170m cash injection to accelerate flood scheme construction in England. These long-term commitments will better protect 336,000 properties, including homes, businesses and hospitals, and for every £1 spent improving protection from flooding and coastal erosion, we avoid around £5 of property damages. So for people's safety, for their jobs and businesses, and for the natural world, this is a good thing.
To deliver this (and more) Environment Agency has launched a new Flood and Coastal Erosion Risk Management Strategy, which sets out how we (alongside risk management authorities, partners and communities) will build up the resilience of millions more homes and businesses.
Some examples of what this means in practice are: expanded flood warnings by 2022 to all at-risk properties, with 62,000 more families to be added to the service; increased investment in natural flood management schemes to better protect people, absorb greenhouse gasses, and create new wildlife habitats; further promotion of property flood resilience measures to help homeowners and businesses recover quicker after flooding; and more collaborative partnerships with national road, rail and utilities providers to ensure their investments are flood resilient.
Our vision is: a nation ready for, and resilient to, flooding and coastal change – today, tomorrow and to the year 2100. There's a world of social and economic opportunities in helping communities to protect against, manage, and recover following, the physical impacts of climate change. Last week, the Global Commission on Adaptation said adaptation investments consistently deliver high returns, with benefit-cost ratios ranging from 2:1 to 10:1.
This country's domestic expertise in flood and coastal risk management protects millions of people every year and is internationally sought after. As the global community increasingly looks at adaptation and resilience in its climate discussions, the Environment Agency's flood strategy will help the UK show greater leadership at COP26 by showing we can walk the walk at home.
Last year, during the consultation on this strategy I said we can't win a war against water by building infinitely high flood defences. Communities don't want their villages and towns to be cut off from the river or the sea by a concrete wall, access to green and blue space is essential for people's health and wellbeing, as well as their sense of place.
Although February's rain was record breaking, our baseline should be records that have not yet been broken. Resilience means enabling lives to be lived and planned comfortably alongside tomorrow's force majeure not yesterday's. If we are to "build back better, build back greener and build back faster", our plans and actions must have resilience to the coming impacts of climate change nourishing them like water.
Emma Howard Boyd, Chair of the Environment Agency