Environment Agency Port Officer Melvyn Stammers discusses international waste exports and what he and his colleagues are doing to stop illegal shipments.
For most people, recycling their waste simply means placing it in the correct bin with little thought given as to where it may go next, what it may be recycled into or if it might fall into the wrong hands. In reality, there is an extensive global market for shipping waste around the world.  Some waste operators can take advantage of this and export it overseas illegally, avoiding the costs of safe, regulated environmental recovery to make significant sums of money at a cost to the environment and legitimate business. This is an example of environmental crime in action.
Around 8,000 import and export containers pass in and out of Felixstowe port every day. As many as 12 vessels -  including the largest in the world - call here on a daily basis. A freight train leaves every 15 minutes; there are thousands of HGVs and three ferry sailings to Europe daily.
Each vessel is capable of carrying 8,000 containers of which can be loaded with as much as 65% of waste.
So how do I find suspected illegal exports?
Every time a shipment is stopped for inspection, it costs money, so making sure we are inspecting the right shipments is vital.  Our Port Officers across England are supported by a pro-active team who pour over information to make sure we target the right shipments. This helps me know about the shipments before they arrive, and as soon as a container arrives at the gate, I have it under my control; it's going nowhere until I have inspected it to make sure any waste is legal and good to go.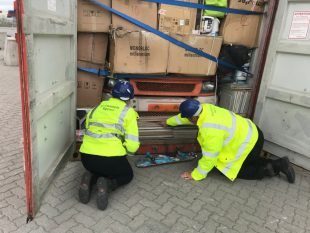 I conduct inspections of paper and plastics, scrap cars and electrical waste; sometimes this can be hazardous waste such as old style CRT televisions or fridges containing ozone depleting substances.
Used electrical appliances have to be fully tested for safety and functionality so that each item is in full working order to be legally exported from the UK. When this is not the case they are classed as waste or WEEE.
Given the volume and variety of waste and overseas destinations, no two days are the same, and until I've inspected the cargo I can never be sure what maybe inside.
The risk is not just to the environment, either. If our waste ends up overseas illegally, the national environmental authority can request that it is sent back, with the cost covered by the the person responsible for exporting the waste. I also inspect waste that is returned to identify what it is, the legality of it and what to do next.
Inspections vary just as export methods do; we see paper, plastic and card going to Asia in shipping containers, refuse derived fuel (RDF) in curtain sided vehicles headed to mainland Europe on ferries, and WEEE destined for Africa - often all is not what it seems until you dig a bit deeper.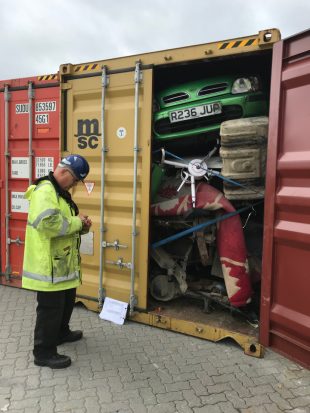 Over recent years I've made some grim and unusual discoveries including:
A shipment of waste plastic destined for Asia from a UK abattoir contaminated with blood, creating a health and bio hazard as well as a home for maggots.
In excess of £5 million worth of stolen vehicles hidden amongst waste, as illegal exporters merge illegal waste exports with more traditional criminality.
A shipping container full of stolen gas canisters, not only a waste hazard but also a safety concern.
Thousands of refrigeration compressors stripped from fridge freezers, potentially risking the release of Chlorofluorocarbons (CFC) gas.
There is a legal and healthy trade in waste exports, but also a dark underbelly of illegal activity and organised crime. On occasion it can be as blatant as finding the kind of waste placed in a kitchen bin - baled up and about to be exported to a developing country with someone else being left with the problem.
As a Port Officer, I provide the last line of defence to make sure that the right waste ends up at the right place. It's an interesting job protecting the environment that I'm proud to carry out.
If you are aware of anyone exporting waste overseas illegally or suspect anyone to be involved in any environmental crime, you can help by contacting the Environment Agency's national Intelligence Team, either directly at national_intelligence@environment-agency.gov.uk or anonymously via Crimestoppers on 0800 555 111.