Matt Buck, Fisheries Technical Specialist for the Midlands, explains how close season helps protect our breeding fish.
Well the evenings are getting lighter, and across the country fish are starting to move out of their winter haunts - a sure sign that spring really is on the way. This is the season best known for renewal and rebirth and this certainly applies to some of our much-loved fish species.
Every year, usually between March and June, our rivers begin to reawaken, trout fry will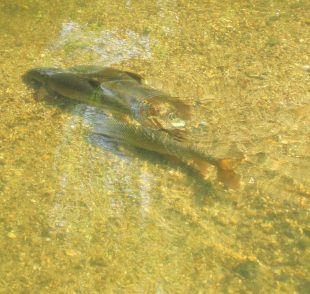 be emerging in streams and dace will soon be spawning in shallow gravel runs - their eggs will sit and wait for nearly a month before hatching. Predators like perch and pike will also be spawning soon, they need to be some of the earliest so that their offspring can predate on other species fry through the summer. Barbel and chub wait until May and June when the weather is slightly warmer, cutting depressions (or redds) in gravel to lay their eggs.
Often you may be unaware that beneath the river bed millions of tiny eggs are developing and hatching, and delicate fry float in clouds in our rivers. That is why it's so important that both the spawning fish and the eggs they lay are undisturbed, allowing the eggs to hatch and giving the fish the ability to swim freely. Once spawned, adult fish are also very sensitive and need time to recover.
In fact, the law actually protects the fish and eggs at this stage from disturbance and damage, from both angling and other activities. Anyone carrying out work in rivers that disturbs spawning fish, their eggs or their spawning grounds is committing an offence. For anglers, fishing is prohibited during the period when most fish are either preparing for, recovering from or actually spawning.
Known as the coarse fish close season, coarse fishing on rivers and streams is closed for three months from and including Monday 15 March until 15 June.
This closing down of angling for coarse fish, alongside our year-round fisheries improvement work, helps protect fish stocks and gives them the best chance to access the right habitat and breed successfully.
Our fisheries enforcement officers and Angling Trust volunteer bailiffs will be patrolling rivers to ensure anglers observe the close season rules, and also to detect and deter any, more nefarious activities such as poaching. They will also be patrolling lakes, canals and ponds to make sure all anglers have a valid rod fishing licence.
Throughout the close season, Environment Agency officers will conduct patrols to enforce it. As part of Operation CLAMPDOWN, now in its ninth year, Angling Trust volunteers support the Environment Agency by keeping watch on riverbanks and reporting incidents to our 24-hour incident hotline 0800 80 70 60.
However, the close season doesn't completely stop you from fishing. It applies to all rivers, streams and a few canals and still waters in England, but does not apply to most still waters and canals. The Canal & River Trust say nearly 8 million of us are within one km of a canal!
Throughout the close season, you could even try your hand at trout fishing, which is also covered by your coarse fishing rod licence. These fisheries still provide a great chance of an excellent catch and might allow you an opportunity to try something new.  You can fish for salmon and sea trout during the coarse fish close season, but you must have a migratory salmon licence and can only use certain types of lures and baits in some areas.
Last year's closed season was one of our busiest, as we saw many new anglers enter the sport. We want to see even more take up fishing in 2021, but we know not all will be aware of fishing rules like the closed season. So, if you know a new angler, please remind them of this important period in the angling calendar. Let's ensure that together, we are giving our fish populations the chance of surviving and thriving at all life stages.
We can also look forward to the glorious June 16th when we can get back on the banks.  I know I will be, there are likely some excellent barbel or chub to be found on my local River Trent.