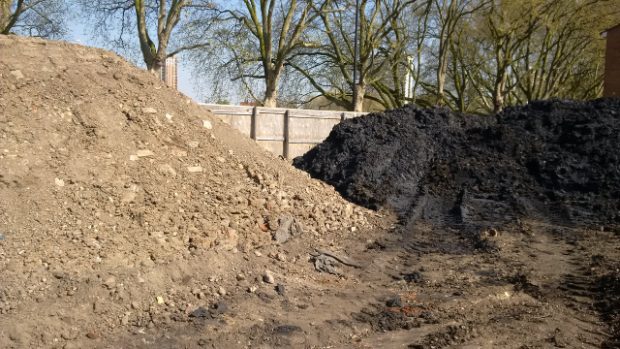 Mirela Andreescu, Environment Officer at the Environment Agency, looks at Construction & Demolition Waste and explains the importance of permitting and correct waste classification.
The increase of developments using identified brownfield sites across the country and especially in big cities is having a huge impact on our permitted sites which are often the end destination sites for construction and demolition waste. We are also seeing a big increase in unsuitable wastes from this industry being deposited at site's without a suitable authorisation creating risk to the Environment and pressure on the EPR Waste teams that need to regulate these activities.
To explain the scale of this impact, we can look at the latest Defra UK Statistics on waste reported in March 2020. This shows that in 2016 the UK generated 66.2 million tonnes of non-hazardous construction and demolition waste (C&D waste). This represents 62% of total UK waste generated in 2016. That's a lot of C&D waste that has to go somewhere, but where should it go?
Do you understand your Duty of Care obligations?
Everyone from the builder generating the waste, right through to the operator of the end destination site has a legal duty of care for that waste to ensure the right waste goes to the right place.
Is your waste classified correctly?

One of the main challenges for the C&D sector is waste classification. I often come across situations where the contractors employed to carry out the groundworks are not aware of their obligations to classify the waste that they produce.
Each waste type should be correctly coded to ensure that it goes to a suitably authorised site that is set up to handle it safely.
Misdescription of waste causes issues at receiving sites. For instance, inert landfills and deposit for recovery sites are not engineered to accept hazardous wastes or mixed C&D waste that is contaminated with inclusions of wood, plastic and metal as they don't have the necessary measures in place to protect the environment and human health.
There is usually a confusion between soil testing for planning requirements, Waste Acceptance Criteria (WAC) testing which is for different types of landfills and the waste assessment and classification that must be carried out in line with WM3 Technical Guidance for all wastes.
I often come across situations where C&D waste with a strong hydrocarbons odour has been misclassified as inert soil and stones, and has been taken to an inert landfill to be deposited. This can easily be avoided if every company in the chain understands their duty of care obligations.
Usually misdescription of waste is linked to tax avoidance. Companies would pay a standard rate for disposing of hazardous waste of £94.15 per tonne versus £3.00 per tonne for inert waste. This undermines legitimate business and it is damaging to the environment. Soil pollution can affect groundwater sources, drinking waters, surface waters and human health.
Is your waste going to a suitably authorised facility?
Ensuring your waste is going to the right place is part of your legal duty of care obligations. You should check if your waste arrives at an end destination site which is permitted to accept it or has another authorisation in place. Ensure the waste EWC code you have assigned is retained until the waste has reached its end destination.
Taking action
Over the past 6 years we have increased our presence at C&D sites, organised days of action targeting waste producers, end destination sites and vehicles carrying waste on the road.
We are working closely with partners and participate at road stops where we carry out checks on duty of care documents accompanying the waste, check if the haulier is a registered carrier and visually assess the waste transported.
We are also working together with the Sustainable Places Planning Team by providing advice and guidance to influence the main developers at the planning stage.
Every builder and developer that does the right thing with their construction and demolition waste is helping to protect our environment for future generations. That's more important now than ever before. Further guidance on managing waste is available on gov.uk