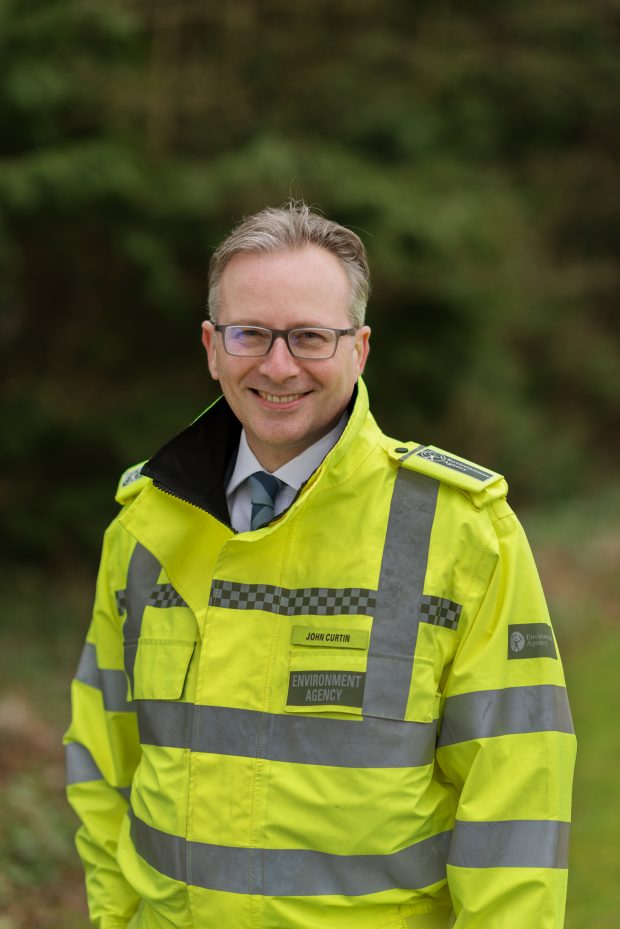 By John Curtin, Environment Agency Executive Director for Local Operations
This week saw a fantastic milestone passed. This week we celebrate the milestone of having better protecting more than 300,000 homes from flooding and coastal erosion. But our mission to better protect communities from flooding is one that never pauses at milestones. We build defence schemes, maintain existing flood infrastructure, warn those at risk, and respond to live incidents. And as we come to the end of one six-year flood defence investment programme, we seamlessly move into preparations for embarking upon the next chapter in flood defence delivery: an even more ambitious, £5.2 billion programme that will take us to 2027.
The world of flood risk management infrastructure is uniquely challenging – we face a constantly changing climate both physically and politically. By continuing to learn, innovating, and adopting the principles of the emerging Construction Playbook and ambitions to become Carbon Net Zero, we embark with confidence on our new target to protect a further 300,000 plus properties. By building on our success so far, we have the tools to reduce the disruption caused by flooding to the daily lives of over 4 million people, while avoiding £32 billion of wider economic damage. And at the same time, we will create or improve more than 5,000ha of natural habitat, and enhance over 800km of rivers. It is a mammoth challenge that will involve around 2,000 new schemes, but it is one that inspires and motivates us as we strive in our purpose to create a better place for people and nature.
Similar anticipation for the challenge ahead was felt back in 2014, when the Government announced what was then a record £2.3 billion investment in flood risk projects. The goal set by Government was to protect 300,000 homes, and meeting it would only be possible through close relationships with other risk management authorities our partners, suppliers, and benefactors, and through supporting Government funding with partnership contributions and efficiency savings.
Not only have we met the 300,000 target this month, we have passed it. The Humber, Hull Frontages flood alleviation scheme concluded on 12 March, and other schemes completing before April will bring the better protected figure to around 310,000. And further to homes better protected, the programme has achieved many wider benefits such as better protection to around 580,000 acres of agricultural land, 350 miles of railway and over 5,000 miles of highways. Overall, the programme is projected to save the economy more than £28 billion in damage avoided over the lifetime of defence assets.
It hasn't been easy. The work, often involving complicated engineering that must be delivered in keeping with the character and heritage of local communities, was carried out against the backdrop of significant winter storm events, and of course over the past year we have been impeded by the impacts of Coronavirus. The resilience of the programme's partners in accommodating and recovering from the impacts of these events cannot be understated, so we are thankful to them all for their continued collaborative support.
Within the next programme, our target figure of properties protected will include non-residential types as well as homes, for example shops, businesses, industrial sites, schools, and hospitals. This will reflect the fact that flood alleviation schemes bring benefits to the wider community. There will also be changes to the Government's partnership funding policy, to help account for surface water risk management schemes that also bring benefits.
To consider this progress feels reassuring, and we hope it does also for those people whose homes and livelihoods are at risk from flooding. But while the next programme of investment is hugely important, remember that building defences alone is not the only thing we as a society need to do to keep ourselves safe from future threats. Last year, the Environment Agency published the National Flood and Coastal Erosion Risk Management Strategy, which calls for the nation to embrace a broad range of resilience actions, including better protection against flooding and coastal change. It defines resilience in terms of the capacity of people and places to plan for, protect, respond to and recover from flooding and coastal change arising from changes in our climate. The responsibility is on all of us to understand the risks posed by climate change, as well as the more immediate localised threats from flooding, so we can play our part in adapting to a climate-resilient future that is prosperous for us and also for nature.
In the end though flood risk management isn't a technical, environmental or engineering issue – it's a people issue. As I reflect on this fantastic achievement of better protecting 300, 000 homes from flooding I reflect on the people and families who live in those homes – many of whom will thankfully never know we have better protected them from the accelerating risks of climate change.