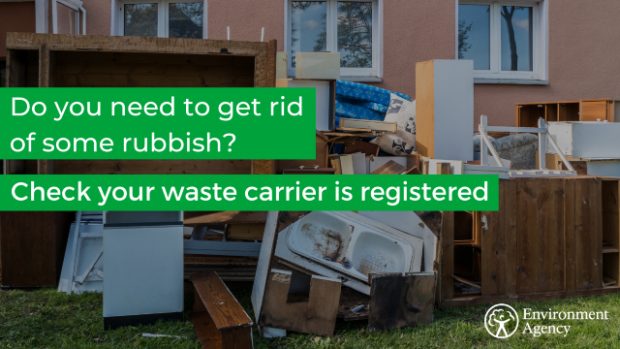 Nick Brenchley, National Lead for Metadata and Data Sharing Systems, discusses the EA's new waste 'widget' to help customers find registered waste carriers. 
Probably the most frequent post on my local community's Facebook group is a request for recommendations for someone to come and clear some rubbish from their home or garden. Lots of recommendations for local traders follow, but which of them are registered waste carriers who will dispose of that waste legally and responsibly?
The Environment Agency Public Registers will give you all the information you need to identify registered waste carriers, brokers and dealers in your area. Fortunately the local councillor who runs my local Facebook group is well versed in pointing people to the registers to cross check recommendations and make sure they are indeed a registered operator. Not everybody knows to check the register though, which got me and my colleagues in the Data Sharing & Access Team wondering; how could we use our data to help in the fight against waste crime?
Previously, some registered and unregistered waste carriers have used the Environment Agency logo on their websites, promotional material or vehicles to indicate a registration or endorsement. This is an illegal use of our Intellectual Property and presents a number of problems, particularly if the person using it is carrying out illegal activities and using the logo to boost their credibility and get business. Other operators have included a link to their permit on the Environment Agency Public Register. This can be useful but is easy to miss on a webpage and doesn't give much information without users clicking through the links.
With the data we have access to for the Public Registers we wondered if we might be able to come up with something a bit more eye-catching that gives some instant and up to date information that traders could use to point to their registration from the website. Following discussions with partners in the waste industry we came up with the waste carriers 'widget'.
The widget is a simple online tool which can be installed by registered waste carriers onto their website.  Once installed it pulls active information about their registration from the Public Register onto their website. This means customers can now easily see the information about that registration without having to know where to look. Details including the Business Name, Registration Number and Expiry Date of the Registration are all instantly visible as well as Companies House number where applicable. Better still the customer can click on the Registration number to view the full Public Register information or click on the Companies House number to see details about the company on the Companies House website.
Having the option of adding the widget to their website will make it easier for Waste Carriers to demonstrate their Registration. For potential customers the widget can make the process of identifying a registered Waste Carrier a far simpler one. Making it easier for people to access our public register information and making use of the data we hold can be a useful weapon in the fight against waste crime.
How else can we use the data we have to improve the environment?