Monitoring is fundamental to understanding and improving the environment.
Over the past 30 years, the work of the Environment Agency has directed £30bn of water company investment in infrastructure, including improvements to over half of the 15,000 storm overflows in England.
Key to these improvements is Event Duration Monitoring (EDM) data. This provides a robust and consistent way of monitoring how often and for how long storm overflows are used, and underpins our planning, compliance and enforcement work.
Working with water companies we have concluded a programme to install monitors on the vast majority of storm overflows – just over 12,000 – by the end of 2020.  By the end of 2023, the remaining number will be monitored to provide a complete picture of permitted storm overflows in England.
The permits we issue to water companies legally oblige them to monitor and report EDM data from their storm overflows. Annual reporting has not only transformed our understanding of when storm discharges occur, but has also allowed us to help water companies understand and address their environmental impact.
This data has always been available by information request, but following the commitment made by the Storm Overflows Taskforce to increase the transparency and accessibility of this data, annual data is now available on GOV.UK.
The 2020 Event Duration Monitoring Data

The data from the 2020 EDM return is summarised in the table below.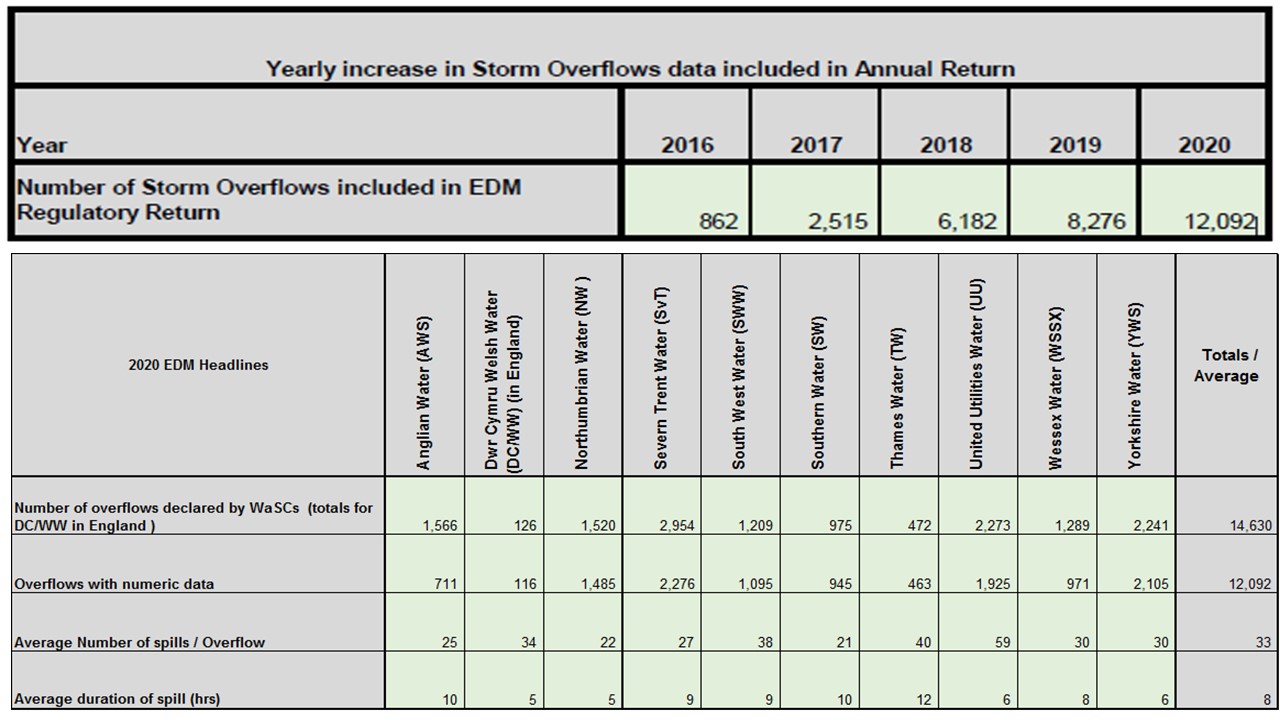 Headlines from the 2020 data include:
14-fold increase in the coverage of monitors, from 862 in 2016 to 12,092 in 2020;
The number of storm overflows with monitoring devices has increased from 8,276 in 2019 to 12,092 in 2020 providing intelligence on over 80% of the sewerage network;
The average number of spills per storm overflow was 33, although there was significant variance between water and sewerage companies (min/max average 21/59);
The average duration of each overflow event was 8 hours, (min/max average 5/12 hours).
How we use the data
We use the data we receive from water companies to inform the Water Industry National Environment Programme (WINEP), developed by the Environment Agency. This provides a really clear framework to prioritise where water companies need to improve and where they should focus their investment.
We have already used EDM monitoring evidence to drive around £1.1billion of water company investment, which will see 800 investigations and nearly 800 improvements to storm overflows over the next four years.
The same data assessments that brought about this investment will now be applied to the 2020 data for the next round of water company environment improvements between 2025-2030.
The data we receive from EDMs has also facilitated a pollution warning service; Pollution Risk Forecasting. Via our website and the Safer Seas Service app from Surfers Against Sewage, we can let people know when a temporary reduction in water quality is likely at some designated bathing waters.
Storm Overflows Taskforce
In the long term, we all want to see the end of damaging pollution that storm overflows cause. Earlier this year the Storm Overflows Taskforce – made up of Defra, the Environment Agency, Ofwat, Consumer Council for Water, Blueprint for Water and Water UK – agreed a long-term goal to achieve this.
Looking ahead
The whole purpose of EDM is to lift the lid on storm overflow performance. More than five years in and the data is maturing and in the long term may show trends influenced by changing rainfall patterns and a growing population. This data will inform water companies' management of storm overflows under current and future pressures; and when they aren't meeting the bar, we can take robust action based on sound evidence to secure improvements, using enforcement if necessary.
We can't tackle water quality alone.  Only wider action through water company investment, better farming practices and simple steps taken in the home to prevent sewer misuse will help ensure we have healthier sewers, cleaner rivers and a better environment for all.