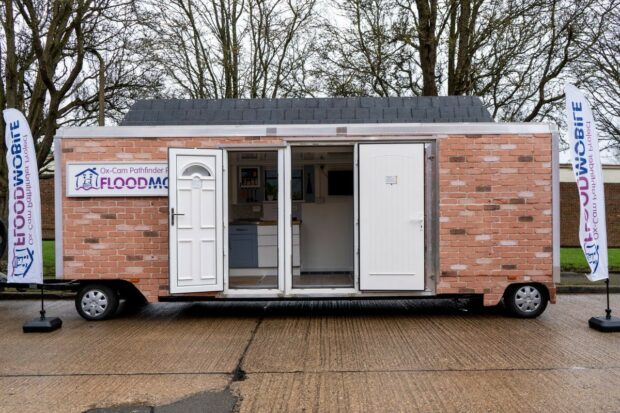 Dan Bond, Deputy Director for Flood and Coastal Risk Management Strategy and Engagement, explains the work an innovative project to make more climate resilient places.
Anyone whose business or home has been flooded will tell you that it's a life changing event. The fear of it happening again never leaves you. Whilst the government is investing a record £5.2 billion over the next six years in flood prevention measures, such as flood and coastal defences, the climate emergency means we cannot eliminate the risk of all flooding.
What we can do is work with the owners of the 5.2 million homes and businesses at risk of flooding in England to understand their flood risk, invest in measures to protect their properties and make sure they know what to do if they do flood.
That's why Defra has funded three Pathfinder projects located in Yorkshire, the South West and the Oxford Cambridge arc region, known as Ox-Cam. These Pathfinders aim to raise awareness of the actions homeowners and businesses can take to make their homes more resilient to flooding.
Put simply, property owners that install equipment such as non-return valves on waste pipes, airbrick covers and flood barriers in doorways are less likely to flood internally. Should the water find its way in, there are many other measures that can be put in place to ensure any damage is minimal and people can quickly get back to normal.
Around 50 examples of these adaptations, known as property flood resilience, are on display in the Ox-Cam Pathfinder's Floodmobile vehicle. It will be travelling to communities potentially at risk of flooding in between Oxfordshire and Cambridgeshire throughout the year, subject to coronavirus restrictions. You'll be able to see and touch the equipment, talk to the experts and generally find out what you can do to reduce the risk of flooding to your home or business.
I joined the Pathfinder team at the recent virtual launch alongside Rebecca Pow MP, Defra's Flood Minister, where we experienced a virtual tour of the Floodmobile. You can see the tour here as well as viewing a number of case studies about home and businesses owners who've successfully installed their own property flood resilience measures.
Examples include:
Headquarters Hairdressing Salon in Mytholmroyd, Yorkshire, which suffered significant damage in the Boxing Day floods of 2015, closing the salon for nine months. Now, with resilience measures in place, after a 3-foot deluge in February 2020, the salon was only out of action for four days.
There's also Sue, who lives in Datchet, Berkshire. She experienced significant flooding only two days after exchanging contracts on a lower ground floor flat. She explains what advice she received and the steps she has taken to reduce the impact of future floods.
The other Pathfinders are also looking at ways to demonstrate the benefits of property flood resilience. The Yorkshire Pathfinder will shortly be launching online training courses and the South West Pathfinder will be creating its own demonstration site for people to visit.
We cannot eliminate the risk of all flooding and coastal change, but we can be more resilient to it. So that when it does happen it causes less harm to people, does less damage, and ensures life can get back to normal much quicker.
You can find out more about how we are working to create climate resilient places in our Flood and Coastal Erosion Risk Management Strategy for England.